Enslaved: Odyssey To The West Premium Edition Launches On Steam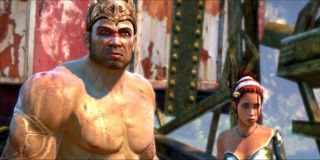 One of the more underrated games of the seventh generation of gaming has officially launched on the most popular digital distribution portal on the market, Steam. Namco Bandai sent out word that the third-person, action-adventure title based on the Chinese folklore tale, re-envisioned for today's generation of gamer has gone live for PC gamers.
As noted in the press release...
Ninja Theory may have received a ton of flak for taking over the Devil May Cry series from Capcom, but no one can deny that they really did knock it out of the ballpark with Enslaved. The game received a lot of of critical praise when it originally released but unfortunately the sales just didn't match up. Likewise, many pegged this game as being one of those classic titles that will gain a strong following and audience as the years wear on.
The game itself is about Monkey and Trip, two unlikely heroes who have been captured and are trying to make their way to the west, away from their captors and toward freedom.
The game is a mix of platforming adventure and combat-oriented action. Players will command Monkey to do all the physical stuff and use Trip to handle to smartsy things like puzzles, hacking and getting out of tight binds where pure muscle may not do the trick.
Enslaved combines a lot of snazzy gameplay with gorgeous graphics and a breathtaking artstyle. It's such a shame this game wasn't released sooner for PC because maybe Namco could have recovered some of their sales by showcasing the visually superior PC version and maybe getting some benchmark enthusiasts and graphics whores to help promote the game, ala Crysis.
Anyway, the Premium Edition of Enslaved contains additional skins for Monkey and Trip, including a ninja outfit and a sexy outfit, and it also comes fully featured with the only DLC released for the game called Pigsy's Perfect 10.
You can grab the Premium Edition of Enslaved: Odyssey to the West right now from the Steam store for only $19.99. If you're not big on PC gaming or you don't have a PC up to snuff to handle this gorgeous adventure title, but you may have missed out on this game for home consoles, you can also grab the Premium Edition from the PlayStation Network right now for only $19.99 as well.
For more information feel free to visit the official store page.
Staff Writer at CinemaBlend.
Your Daily Blend of Entertainment News
Thank you for signing up to CinemaBlend. You will receive a verification email shortly.
There was a problem. Please refresh the page and try again.