Ether One And Why It's Coming To PS4 And Not Xbox One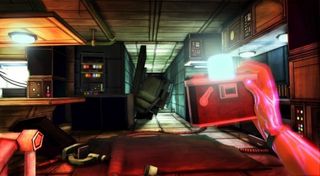 Why are some games on some systems and not on others? "Why is it that all the games that seem interesting and unique aren't coming to my system?" That's probably what a lot of fans are asking whenever news breaks that an interesting new title is coming to one platform and not the other. Well, White Paper Games explains why.
Gaming Bolt managed to get in word with the developers behind the game, and they basically just asked exactly why the game is coming to the PS4 and not the Xbox One.
Speaking with Pete Bottomley, Ether One's designer, Gaming Bolt discovered exactly why the game is console exclusive and why it hasn't been planned to release on Microsoft's system. Bottomley stated that...
Burn.
This story isn't uncommon, though. We've been hearing this time and time again: that Sony's team led by Adam Boyes has been reaching out to developers left and right. In fact, if you can find Boyes on Twitter you'll likely see him sending and receiving tweets to big devs just as likely as you will small indie devs. The reality is that Sony understand the instability of the AAA market. Trying to constantly build brands on top of $100 million dollar budgets is just not sustainable.
Opposite of some companies, Sony built the PS4 to be powerful not for the sake of AAAs, but to also give indies room to breathe. Without the tight architecture of the PS3, it's no longer quite a constrain on getting games up and out on Sony's console. In light of the PC-style architecture and Sony's deep competitive edge to capture as many indie studios as possible, they've kind of left Microsoft in the dust.
But Ether One isn't the only game that fits into this category. We've repeatedly seen other indie titles just completely skip over the Xbox One, like the highly underrated Mercenary Kings, the side-scrolling multiplayer title with customizable weapons, multiple missions and split-screen and online multiplayer.
In the case of Ether One, it's just another one of those single A titles that slipped through the cracks on Microsoft's end.
The one thing I'm curious about is whether or not Microsoft will get the hint and push forward to gain more acceptance and higher-tier relationships with independent developers. Right now Sony is cleaning up on the indie front, and if you don't have a decent PC to play a lot of the cool or high-end indie titles, Sony sure is making the PS4 look like a lucrative option by comparison.
You can look for Ether One to launch on the PS4 at some point in the near future.
Your Daily Blend of Entertainment News
Staff Writer at CinemaBlend.