EverQuest 2 Growing After Free-To-Play Switch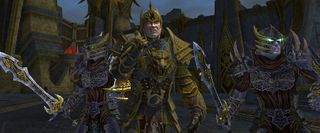 Sony Online Entertainment recently switched EverQuest 2 to a free-to-play model to give the MMO a much-needed spark. SOE president John Smedley says that the move has resulted in "amazing growth" for the game.
"We are seeing some amazing growth in EQ2. 40% increase in daily logins since going f2p," tweeted Smedley. "300% increase in new players."
SOE took a very cautious route with free-to-play. Back in the summer of 2010, they launched an entirely separate version of EQ2 called Everquest II Extended. Extended was free-to-play and funded by microtransactions and optional subscriptions. The free-to-play and subscriber servers were kept separate. In December of last year, SOE switched the entire game over to the free-to-play payment model.
Players can download and dive into EQ2 for no charge. However, their access to content is limited in some respects. For example, they can only play four races and eight classes. Players can get access to this premium content by purchasing it individually with real-world money or by getting an all-inclusive subscription.
Smedley said in a follow-up tweet that item sales have grown 200%. Also, they have "added a lot of new subs."
"All during the time that some really good competition hit the market," he added, no doubt a reference to the recent launch of Star Wars: The Old Republic.
EQ2 is the latest in a string of MMO's switching to F2P. Other recent examples include Age of Conan, Lord of the Rings Online and Dungeons and Dragons Online.
Staff Writer at CinemaBlend.
Your Daily Blend of Entertainment News
Thank you for signing up to CinemaBlend. You will receive a verification email shortly.
There was a problem. Please refresh the page and try again.