Fans Get The Opportunity To Have Their Writing Published In World's Adrift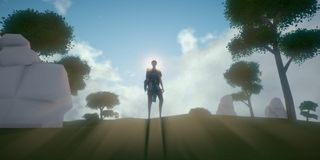 If you've got a knack for the written word, this may be your chance to try for a shot at being featured in a video game. Developer Bossa Studios is hosting a creative writing contest to hunt for someone whose writing speaks volumes to be featured in Worlds Adrift as official lore.
The submission style of the contest is very open; you can write in the form of a short story, a poem, a song, anything you think will win over the hearts of the judges. Despite the contest having pretty flexible creativity rules, the entries do need to be no longer than 500 words and about the history of the game. But here's the catch. If you're at all familiar with Worlds Adrift, you would know the history of the game is not as detailed or laid out as one would hope. That's where you, the creative writer, comes in. According to PC Gamer, the studio stated,
Bossa Studios also mentioned that alongside the launch of creative writing contest, they're also opening a section in the forums specifically for budding writers to show off their work. Bossa Studios hopes that writers will feel free to express themselves through their work in the writing contest and to not feel weighed down by expectations. In the end, it really is going to be about the best writing rather than who can geek out more. Bossa Studios suggested,
And Bossa Studios didn't just want to leave passionate writers hanging, either. To help out with those stricken with writer's block, they posted two writing prompts to get writers started: one an image from the game and the other text. So hopefully writers can get some sort of inspiration to get them started.
Even though the writing contest was just recently announced, fans have already begun submitting content.
To get more information or to enter the contest, check out Worlds Adrift's official website. The contest will end on February 9.