Far Cry 4 Disappearance Not Due To Xbox One DRM, Microsoft Says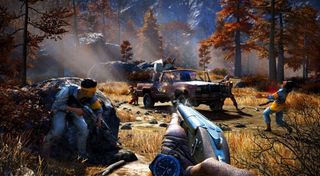 If you're a proud owner of a digital copy of Far Cry 4, you may have encountered a problem with the Xbox One version of the game: it became unplayable for some gamers when it was delisted from the Xbox store. Well, Microsoft has come forward to say that it wasn't the Xbox One's DRM.
Eurogamer managed to get word from a Microsoft representative who came forward to run damage control for the situation. According to the rep, they stated...
For a little context, a few days ago some users ran into a problem where Far Cry 4 was no longer available on the Xbox store. The title was listed as "Unavailable". That isn't that big an issue as there are hiccups with digital store listings all the time for various distributors. The real issue came in with people who only had a digital copy of Far Cry 4. After the game was made "unavailable" on the store there was a collateral effect that saw users unable to play the game... at all.
An error message would pop up, identical to the one that popped up during the Killer Instinct FGC tournament, warning users that they don't have ownership rights to the title.
Back during the Killer Instinct debacle Microsoft had stated that it wasn't their fault. There was a lot of grumbling and mumbling, but they stepped away ensuring that the Xbox One's 24-hour check-in DRM was not back.
The same thing happened again with the Far Cry 4 fallout, as they made it known that things were back to normal and that access to the title was restored, with the Microsoft rep explaining...
The incident caused a lot of people to question the reliability and longevity of digital content.
The "all digital future" sometimes looks extremely bleak when you see that some games come and go from the digital storefronts without any word from the publishers or distributors.
Some gamers simply chalked up the experience to a typical mishap, but some people questioned how this would affect their library, especially considering that it looks pretty bad when you can't play games you own. It makes it look like the whole digital revolution is somewhat anti-consumer.
One-offs and problems will happen, but the whole idea of not being able to play the games you paid for when you want to, due to one issue or another is kind of problematic.
Ubisoft has been encountering a lot of these issues lately, with their ongoing battle with lots of bugs and glitches in Assassin's Creed Unity, the poor launch of The Crew, and now this digital ownership issue with Far Cry 4. So far, there have been no reports about this problem occurring with PC, PS4, PS3 or Xbox 360 owners.
Staff Writer at CinemaBlend.
Your Daily Blend of Entertainment News
Thank you for signing up to CinemaBlend. You will receive a verification email shortly.
There was a problem. Please refresh the page and try again.