These Fast & Furious Cars Are Coming To Forza 6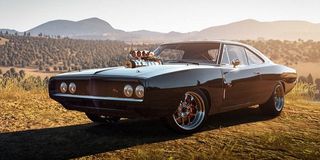 Forza Motorsport 6 is about to get faster and far more furious as the developers announce the addition of fan-favorite cars from the Fast & Furious movie series. Get ready to live your gaming life a quarter mile at a time.
A whole bunch of Forza Moatorsport 6 announcements recently went out over the Xbox Wire (opens in new tab), including details on a new demo, a Forza Fuel Challenge event and, yep, a pack of cars ripped from the Fast & Furious movies. Oh, and there's a new launch trailer for the game, too, as its set to hit store shelves on Sept. 15.
As for those fast and furious new cars, folks who buy the Ultimate or Deluxe editions of Forza 6 will enjoy the 10-car Fast & Furious DLC at no additional charge. No word yet on what the cost of those cars will be if you buy them separately, but here's a list of the models.
-1968 Dodge Charger Fast & Furious Edition
-1969 Dodge Charger Fast & Furious Edition
-1970 Ford Escort RS1600 Fast & Furious Edition
-2014 Terradyne Gurkha LAPV F5 Fast & Furious Edition
-1963 Chevrolet Corvette Grand Sport Fast & Furious Edition
-1995 Mitsubishi Eclipse GS Fast & Furious Edition
-1995 Toyota Supra RZ Fast & Furious Edition
-1999 Nissan Skyline GT-R Fast & Furious Edition
-2002 Nissan Fairlady Z Fast & Furious Edition
-2001 Honda S2000 Fast & Furious Edition
If you're a fan of the movies, now's your chance to experience the vehicles and cruise around the tough streets of Forza 6 like Dominic Toretto. Just remember to say something about the importance of family every five minutes if you want to get the full effect.
If you don't feel like waiting until Sept. 15 to try out the game and those cars, you can grab the new Forza demo starting now. Just log onto your Xbox One, head over to the marketplace and get to downloading. You'll enjoy a sampling of the "460 cars and 26 tracks found in the game," though no word on how many of either are actually available in this trial run.
Finally, you'll want to grab that demo if you want to take part in the Forza Fuel Challenge. The Xbox team is picking three of the fastest drivers from various regions to win an all-expense paid trip to Circuit of the Americas in Texas, with two eventually earning the chance to experience the "ultimate Forza challenge." To enter, just do your best in the Forza Fuel Rivals challenge within the demo and keep your fingers crossed.
Staff Writer for CinemaBlend.
Your Daily Blend of Entertainment News
Thank you for signing up to CinemaBlend. You will receive a verification email shortly.
There was a problem. Please refresh the page and try again.