Fez Getting Patched For Xbox 360 Now That Patching Fees Are Gone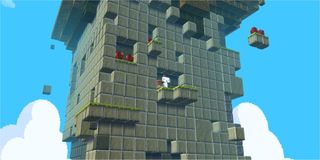 It was mentioned before that when Microsoft silently instituted the new policy for the Xbox 360 to have patch fees removed for indie devs that Phil Fish, the designer of Fez, would look into seeing if this was true. Well, turns out it's true enough and the designer has confirmed that Fez will finally receive the long awaited patch it needs to get fixed.
Last week we reported on claims from Eurogamer that some independent developers had come forward and noted that they no longer had to deal with the astronomical patching fees for the Xbox 360.
Quite naturally, some developers (and many gamers) were curious if the process was retroactive and if some other (broken) games would be getting the patching treatment, such as the fun but broke-as-a-Chevette Fez? Well, Fez has been confirmed to receive said treatment, as Phil Fish took to Twitter to state that...
I'm assuming all that caps talk wasn't because he was engaged in an intense Yahoo! chat conversation about JRPGs with a 12-year-old Mensa member. If my observation skills served me well (and sometimes they do) I would imagine this is genuine excitement about not having to pay upward of $10,000 just to go through the patching certification process for the beloved but aging Fez.
Of course, the team at Polytron will still have to work out the financial situation regarding man hours... but if they don't have to pay needless money to Microsoft to fix their broken game, then it's all good regardless.
Despite selling 200,000 copies of Fez on the Xbox 360 via the Live Arcade channel, Fish is still not entirely happy with the policies Microsoft has setup for their next-generation console, the Xbox One, mostly regarding the restriction for indie devs to self-publish on the system.
According to GameIndustry.biz, Fish stated that...
As it's been noted many times before, indie devs are encouraged and enforced on the Nintendo Wii U and the PlayStation 4 to self-publish. Both Nintendo and Sony see a huge potential market for high quality indie games on their next-gen consoles, as they could be a huge driving force in the way the new systems are adopted by the core audience, especially amidst the waning presence of bloated, factory-style AAA titles that are losing both luster and prestige in the eyes of the core community.
We'll soon see how well the self-publishing and the patch-free environment of the PS4 helps adopt new and exciting indie games like Fez 2, and whether such titles will help grow the market for Sony's new console in competition with the Xbox One.
Staff Writer at CinemaBlend.
Your Daily Blend of Entertainment News
Thank you for signing up to CinemaBlend. You will receive a verification email shortly.
There was a problem. Please refresh the page and try again.