Final Fantasy 7 PS4 Version Isn't The HD Remake We Hoped For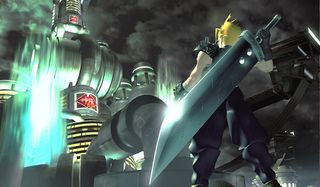 Update: It seems Square Enix changed their mind and is now developing true remake after all.
Original article: Square Enix announced at PlayStation Experience this weekend that they'll release Final Fantasy 7 on PS4. Don't get too excited by this news, though.
The PS4 version of Final Fantasy 7 won't be the HD remake that fans have been begging Square Enix for. Instead, it's just a port of the PC version released in 2012. The PC re-release supported higher resolutions and modern operating systems but wasn't a dramatic makeover of the original 1997 game.
Final Fantasy 7's PS4 edition will presumably have Trophies to give players incentive to replay it for the umpteenth time. If it's based on the PC re-release, it may also come with a Character Booster. The Booster allowed the player to boost their hit points, magic points, or money to maximum instantly.
Those are the only sort of enhancements we can expect, though. This is largely the same game you've played over and over. The only difference is that it runs on your PS4. Oh, and you need to pay for it again.
Square Enix has discussed the possibility of a true HD remake in the past. FF7 director said in 2011 that if such a project happened, it would likely have new features.
"If I may speak as a game creator, if we were to produce a remake of VII, for example, I would be really tempted to delete things and add new elements, new systems or whatever because if we were to make exactly the same thing now, it'd be like a repeat," Kitase said.
Each time he's spoken about an HD remake, though, he's discussed how difficult it would be. In his 2011 conversation about changing or adding features, he mentions that it would be a tough balancing act between improving the game and keeping enough elements similar to the original version to placate nostalgic fans.
"Those slightly negative features and bits, for some of the really enthusiastic fans of these titles, that gives the game extra flavour or personality or whatever. So maybe they would rather we didn't do anything about it and we just leave it in as it is. It's very difficult to decide what we should we keep in and what we should take out."
Earlier this year, Kitase said that a Final Fantasy 7 HD remake would be a costly undertaking. He said that rebuilding the game with modern visuals would take more time than making Final Fantasy 13, which took the studio five years. "I can honestly tell you I would love to do that," Kitase said. "If you simply ask me if I personally would like to do that, yes I would. Definitely. There's no lie about it. But you must believe me when I say it would take a lot to happen."
Perhaps the desire that fans and Square Enix have for a full-blown remake will result in the project actually happening. Until then, Square Enix's apparently going to just keep bringing the same old game to new platforms.
Staff Writer at CinemaBlend.
Your Daily Blend of Entertainment News
Thank you for signing up to CinemaBlend. You will receive a verification email shortly.
There was a problem. Please refresh the page and try again.