Final Fantasy 9 Is Coming To Some New Platforms In 2016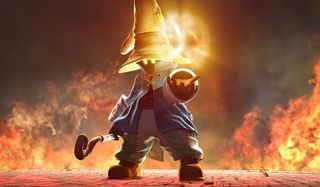 Good news for folks who have missed out on Final Fantasy IX up until this point: It's coming to a couple new platforms in 2016. Like many Final Fantasy games before it, IX is about to make the leap to PC and mobile devices.
Square Enix is no stranger to making old games new again, so it makes sense that the developer/publisher would finally launch the beloved Final Fantasy IX on platforms other than the original PlayStation.
The announcement was made official through the Square Enix Youtube page earlier today, announcing that Final Fantasy IX will arrive on PC and smartphones sometime in 2016. It will, of course, come with a graphical polish, which you can see in action via the reveal trailer.
Rebooted/remastered Final Fantasy games have certainly been in the news a bunch lately, as Square Enix seems to be utilizing these much-requested releases as a sort of appetizer to their next big title (that still has nothing resembling a release date), Final Fantasy XV.
The most exciting of those announcements is the fact that Final Fantasy VII is being rebuilt from the ground up for modern consoles. Less exciting for some gamers, though, is the fact that said reboot will apparently be changing a bunch of the game's systems (like combat), and the release will take place over the course of three separate games.
One of the more recent games to make the jump to PC from the storied RPG universe was Final Fantasy VI, which recently received a mod that fixed some graphical issues many had with the game. In short, Square Enix made the game look "newer," and the mod made the in-game sprites appear more like their original selves.
As for the upcoming launch of Final Fantasy IX, it looks like the game's graphics have simply been sharpened and smoothed out. In other words, the game looks like you remember it, not how it actually looks. Try to go back and play FFIX now and your eyes might bleed from strain while trying to explore its vast world. The new graphics clean up the mess, making this new version look like what your mind thinks the game used to look like.
Along with those graphics boosts, the new version of Final Fantasy IX will include in-game achievements, a high-speed mode, as well as auto-save.
While most people probably think of Final Fantasy VII when the series is brought up in discussion, a large number of series fans hold Final Fantasy IX to be the best of the bunch. It's still about a plucky group of friends on a quest to save the world, but the charming cast, adorable characters and more lighthearted feel resonated with quite a few folks.
Currently announced for launch in Japan in 2016, we'll have to wait and see if a US launch is also in the cards.
Staff Writer for CinemaBlend.
Your Daily Blend of Entertainment News
Thank you for signing up to CinemaBlend. You will receive a verification email shortly.
There was a problem. Please refresh the page and try again.