Final Fantasy Type-0 American, Euro Port Unlikely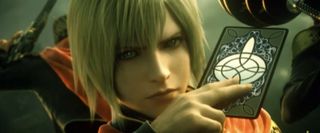 It's looking pretty bleak for fans of Final Fantasy Type-0 to see a port of the game Stateside. New information indicates that the game that core gamers would actually like to play out of all the recent Final Fantasy games released, won't be arriving in a nation near you.
In a detailed blog over at 1up, we get a rundown of the status of several key Final Fantasy games that gamers have been eagerly awaiting. However, none more so than Final Fantasy Type-0, the highly impressive PSP game that's thoroughly lodged up the cultural rectum of Japan and won't be getting unhinged for European or American gamers anytime soon, if at all.
The Examiner pinpointed the most important part of 1up's blog – the part about Type-0 of course – where writer Jeremy Parish states...
Ouch.
As many of you know, the core audience who helped put gaming on the map during the big boom of the golden era in the 1990s and early 00s, is actually a niche market. Yes, we're niche, believe it or not. Because of this, Square is looking at how they can sell their products outside of Japan to a mass market. It's not about tapping the core audience anymore, even though you're guaranteed at least a million in sales from dedicated fans. The idea is to spend as little as possible and gain as much as possible. Porting Type-0 could prove to be a risk Square just doesn't want to take.
I think it's odd considering that Final Fantasy Type-0 has received nothing but praise and it's obvious the designers really love gaming and put a lot of effort into bringing this particular game to life. Nevertheless, as many of know, Square is duly focused on reshaping and re-releasing Final Fantasy XIV: A Realm Reborn. Depending on how the reformed MMO turns out could determine whether or not Square will put any effort into making progress on a localized port of Final Fantasy Type-0 for any region outside of Japan.
Staff Writer at CinemaBlend.
Your Daily Blend of Entertainment News
Thank you for signing up to CinemaBlend. You will receive a verification email shortly.
There was a problem. Please refresh the page and try again.