Final Fantasy XI Ultimate Collection Abyssea Edition Arriving May 16th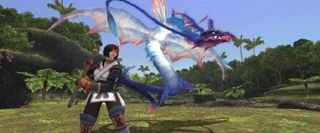 Square Enix is still milking that less-than-fat cow known as Final Fantasy XI and they're hoping to get one last wave of gamers to join the online community with a larger-than-life collector's edition that is a true, definitively insurmountable Final Fantasy XI experience.
All right, so gird your knickers because the following list of items included in the ultimate collection is a bit of a dosey…
There are also special in-game items that are exclusively available through the Ultimate Collection package. The complete collection will be available for $19.99 starting May 16th at select digital distributors. Gamers who like purchasing their products old-school will also be able to find Final Fantasy XI Ultimate Collectoin Abyssea Edition at select brick-and-mortar retailers.
For more info feel free to learn more by visiting the Official Website.
Staff Writer at CinemaBlend.
Your Daily Blend of Entertainment News
Thank you for signing up to CinemaBlend. You will receive a verification email shortly.
There was a problem. Please refresh the page and try again.