Final Fantasy XIV's PS4 Launch Date And Beta Schedule Announced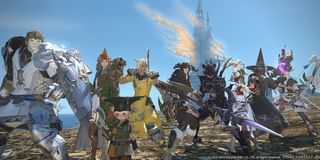 The time has come for heroes to unite, gear up, and mount their giant, yellow birds in order to fight for the kingdom as Final Fantasy XIV: A Realm Reborn finally gets some beta details and an April 14 launch date for the PlayStation 4.
Square Enix Community Project Manager Hergen Thaens made the announcement official this morning, saying that the wait for epic questing, monster slaying and moogles on Sony's new home console is nearly at an end.
"Final Fantasy XIV: a Realm Reborn launches for PS4 on april 14," reads the statement. "Many players have questions about the beta, as well as the PS3-to-PS4 transfer process for accounts. Folks were wondering who could participate in the beta, if they could use existing characters, if they needed an existing account, or could jump right in?"
Luckily for us, Thaens has all of the answers, explaining that the first phase of beta testing will run from Feb. 22 to March 3, followed by phase two from April 4-7. Just like the PS3 beta, the PS4 romp will be available to everyone with a console and accessible directly from the PlayStation Store.
A character wipe will occur after the first phase of the beta with characters created in phase two carrying over to the retail version of the game. Existing PS3 and PC players will also be able to transfer character data into the PS4 version of the beta, something that won't be necessary in the final version as everything will be united under a single server.
Speaking of the PS3-to-PS4 transfer, that's set to begin on April 11.
"Please be aware that after transferring to the PS4, you'll be unable to play the PS3 version using your existing copy," Thaens continues. "Users who wish to play using both the PS3 and PS4 are required to purchase the PS4 version separately."
Those who transfer an account will also be able to start playing during the early access period from April 11-13. So have fun lording that two-day head-start over the lowly peasants coming to the game fresh.
Finally, a few details on what to expect out of the PS4 version of A Realm Reborn. Along with shiny new graphics at 1080p, you can enjoy remote play with the Vita, stream your play sessions, enjoy mouse and keyboard support and, perhaps the most snazzy addition, touchpad support for easy navigation and selection.
Staff Writer for CinemaBlend.
Your Daily Blend of Entertainment News
Thank you for signing up to CinemaBlend. You will receive a verification email shortly.
There was a problem. Please refresh the page and try again.