Final Fantasy XIV: A Realm Reborn PS3 Beta Sign-Ups Now Open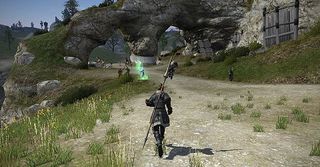 Only time will tell if the second time is a charm for Square Enix's struggling MMO Final Fantasy XIV, and that "time" might be coming up sooner than anyone expected. The closed beta is moving along to its next stage and now everyone can sign up for a chance to get in on the action.
When Final Fantasy XIV first launched back in 2010 it was something of a colossal failure. The game received terrible reviews, primarily targeting the gameplay. As a result, Square Enix did not even begin charging the subscription originally planned for the online title, restructured its staff and began rebuilding the entire experience from the foundation up. The developer's second attempt at creating an MMO following the decently successful Final Fantasy XI, it looked like this latest offering was destined for failure.
But now the team at Square Enix is busy cranking away on a new version on the game, called Final Fantasy XIV: A Realm Reborn. Producer and Director Naoki Yoshida recently dropped by the PlayStation Blog to discuss this overhauled version of the MMO, also letting everyone know that they can now sign up to take part in the closed beta.
"We consider it one of our missions to reacquaint gamers all over the world with the wonders of Final Fantasy," Yoshida said. "To this end, we'll be incorporating the most memorable elements of the series into A Realm Reborn."
This move will also play to the nostalgia of longtime Final Fantasy fans, including various bits and pieces from the series' 25-year history such as the Crystal Tower from Final Fantasy III, familiar summons and monsters, as well as the ability to ride magitek armor from Final Fantasy VI. (Yes, please.)
No word yet on when this realm will be reborn, but you can now sign up to pay the place a visit before anyone else. Head on over to the official Final Fantasy XIV beta registration site to sign up.
Staff Writer for CinemaBlend.
Your Daily Blend of Entertainment News
Thank you for signing up to CinemaBlend. You will receive a verification email shortly.
There was a problem. Please refresh the page and try again.