The Final Fantasy XV Villain Will Top All Other Final Fantasy Villains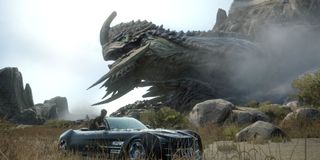 Final Fantasy XV is going to be changing a lot of what we think we know about the popular role-playing series.
According to the Final Fantasy XV Active Time Report during Gamescom 2015 yesterday (thanks VG247), this is going to include the villains as well, as director Hajime Tabata suggested that the main antagonist in Final Fantasy XV will "top all villains" from the rest of the franchise.
This statement goes hand in hand with the gameplay video shown during the event, where characters are shown attacking an enormous Malboro of Final Fantasy fame. The clip appears to show the super-sized monster using its trademark move "Bad Breath" and knocking everyone out with it. Powerful halitosis, back in the early days of the game and even now.
Hajime Tabata delved into some of the back story of Final Fantasy XV, as well as the valley you'll see later in the second half of the game likely while exploring the open world, but remained mum as far as the monsters revealed at the end of the newest trailer. He did answer several questions throughout the course of the presentation, however, where he revealed the villain this time around would top all of the villains who came before. That's going to have to be seen to be believed. Sephiroth? Kefka? Come on, Tabata-san. You're really going to have to push to get us to bite on this one immediately.
There were some other topics discussed as well, including who the "mysterious lady with the black hair" may be, who Tabata also remained quiet on, and other characters. She is, however, going to be an important character in the story, and the development team calls her the "straight, black-haired girl." Of course they probably already have a name for her, but it's an interesting glimpse in side the mind of the dev team to hear comments like these being thrown out.
The main theme of the game was shared as well, likened to the elements of Final Fantasy Versus XIII's story, as those very same aspects are still present in Final Fantasy XV, according to Tabata-san: "the things we thought were important for tragedy an calamity--but has been expanded with other elements like the focus on friendship, the bond between father and son, etc."
It was a very enlightening session from Tabata-san and the rest of the team. Final Fantasy XV is headed for release in the near future, but we still have yet to hear about a concrete release date. There have also been rumblings that it may come out on PC, but that has yet to be confirmed.
Your Daily Blend of Entertainment News