Final Fantasy 15 Demo Will Be Updated Soon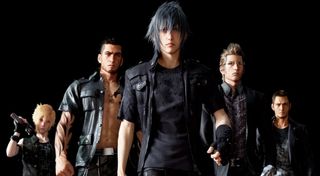 The team working on Final Fantasy XV have some good news in store for anyone looking for a morsel of information: they will be updating the Final Fantasy XV demo this June. Even more than that it will help bridge the gameplay and story together even more, as well as give gamers a sound idea of what Square Enix has planned leading up to the final promotional push for the game's release.
Game Informer put together a short and sweet article detailing how Akio Ofuji, manager of the marketing division, and Hajime Tabata the director for Final Fantasy XV, talked about a number of topics in the recent Active Time Report that you can see below.
The hour and a half report covered numerous topics, including what plans Square Enix has for Final Fantasy XV at this year's rapidly approaching E3 event. The good news is that there are big plans for the highly anticipated JRPG, the bad news is that those plans won't be unveiled at E3.
Tabata mentions how they may roll out a trailer for Final Fantasy XV at this year's mega-event, and despite Square Enix actually hosting their own stage conference they have delayed their bigger reveals for GamesCom this August in Cologne, Germany. On the upside, Game Informer mentions that version 2.0 of the Episode Duscae demo will at least be released during June, so they're going to feed gamers a little bit of something before the event in August.
According to Tabata and Ofuji, GamesCom will be a renewed start for Final Fantasy XV as the team will aim to give gamers more insight into the project, new gameplay to look forward to and presumably more details on the characters and world.
Following GamesCom, there will be PAX Prime and the Tokyo Game Show that come shortly after that. As mentioned in the Active Time Report, they will be in attendance at those events or at least have more details to share at those events to really get the hype train rolling out of the station.
Based on the way they talk about the game and the schedule for the standard promotional hype, it sounds like the game won't be released until sometime in 2016. If the hype train gets underway hot and heavy after GamesCom we could expect an early 2016 release; unless they really start rushing development for a fall 2015 release, although that seems kind of unlikely given the unfinished state the game was in based on previous video demos released. However, if the hype train starts and stays moderately present but not really overdone, then we could be looking at a mid to late 2016 release for Final Fantasy XV.
Given the already overtly long development schedule for Final Fantasy XV, which originally came onto the scene almost a decade ago as Final Fantasy Versus XIII (yeah, it's been that long) it's impossible to really tell exactly how close they are to being finished or how far away they are from completion. At least gamers will be able to get in some extra game time with the updated demo this June.
Staff Writer at CinemaBlend.
Your Daily Blend of Entertainment News
Thank you for signing up to CinemaBlend. You will receive a verification email shortly.
There was a problem. Please refresh the page and try again.