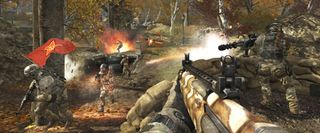 Today marks the beginning of Modern Warfare 3's downloadable content season. Xbox 360 owners with a premium subscription to Call of Duty Elite will be able to download new maps for M3's multiplayer.
Downloadable content for MW3 is included for free with Elite's $49.99/year subscription. Everyone without a subscription will have to pay for the DLC. Non-subscribers also won't get content in steady drips. Instead, they'll have to wait until Activision releases Modern Warfare 3 Content Collections - essentially compilations of several pieces of DLC. The first Content Collection is due in March.
PS3 and PC owners won't be receiving these maps today. The content is a timed exclusive for the Xbox 360 due to a deal between Microsoft and Activision. Presumably Call of Duty Elite subscribers on the PS3 will get the maps in a month. However, it's not clear what'll happen on the PC, as Elite isn't available for that version of MW3.
Today's "content drop" for MW3 includes two new maps:
Piazza - "This seaside Italian getaway is anything but idyllic, as tight corners and branching pathways pose great risk at every turn. Close-range combat dominates, and the team that best utilizes flanking routes will most often come out on top. Attacks from behind, above and below are an ever-constant threat. Keep up your awareness and don't get taken by surprise."
Liberation Map - "A militarized Central Park stretches across a vast landscape, ripe for long-range sniper and LMG fire. Mounted turrets on either end lend power to anyone brave enough to expose themselves in exchange for deadly firepower. Plan out your movement and always be aware of nearby sightlines to avoid becoming fodder for the enemy."
The next DLC for MW3 will go live in mid-February. The fourth and fifth content drops are slated for March. Activision promises that premium Elite members will get at least one new piece of content per month through September.
Your Daily Blend of Entertainment News
Staff Writer at CinemaBlend.