Free Red Faction: Guerrilla, Darksiders Extras With Darksiders Purchase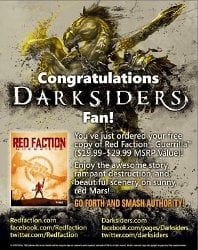 Today THQ revealed the purpose of that mysterious voucher code included in your copy of Darksiders. It's apparently a ticket to a bunch of free stuff.
The code entitles you to a free copy of either the Xbox 360 or PS3 version of Red Faction Guerrilla with the code. THQ is also throwing in a "digital Hellbook disc featuring Darksiders art, videos, and other awesome stuff." Even getting RF:G by itself would be money, though, as it's a pretty fun game. The links to redeem the offer are here.
While all that is technically free, you will need to pay $4.99 (plus tax) for the shipping. The offer is good only until March 7th. Only US residents are eligible for this deal.
Note that your free copy of RF:G doesn't need to be for the same platform that you bought Darksiders. I picked up the 360 version of Darksiders and am getting my free RF:G on the PS3.
Image 1 of 1
Staff Writer at CinemaBlend.
Your Daily Blend of Entertainment News
Thank you for signing up to CinemaBlend. You will receive a verification email shortly.
There was a problem. Please refresh the page and try again.