GTA 5 Adds Running Back Mode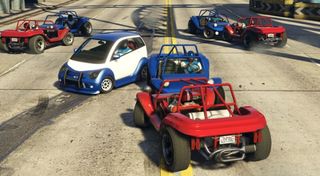 Rockstar has decided to celebrate the football-themed Thanksgiving by rolling out some new content for Xbox One, PS4 and PC users. The new update sees two teams battling head-to-head on large empty bridges, almost like a game of football in cars.
The news recently went live over on the Rockstar Games website, where they rolled out the rules of the new Running Back mode. Basically, two teams of four will square off on an open bridge. The objective is that one person in a Benefactor Panto will have to get across the bridge while being protected by other teammates in BF Biftas. The opposing team are also in BF Biftas, and their job is to block, run interference and prevent the Benefactor Panto from getting to the "end zone".
This Running Back mode will be playable across three different bridges across the Grand Theft Auto V Los Santos map, giving gamers a little bit of variety and a change in scenery for those who really find themselves enjoying the mode. According to the Rockstar post, gamers will be able to challenge one another across Raton Canyon Bridge, La Mesa Bridge and Zancudo Tunnel.
The mode was met with some mild enthusiasm from gamers. It seems as if more people are interested in single-player DLC and updates to the content creation utilities than the adversary modes. By this time in the lifespan of GTA IV there was the Lost and Damned DLC and Ballad of Gay Tony content that was up and out there. Rockstar decided to alter their content roll-out for GTA V by focusing on the GTA Online aspect of the game with more regular multiplayer updates and releases.
One of the more common updates has been the Adversary modes for GTA V, where players are put into small combat arenas and face off against other players with various stipulations and rule-sets put into place. One of the more popular modes was the Slasher mode, which was released during Halloween as a play on the typical 1980s slasher films.
Over the past couple of years since GTA V has been released, Rockstar has slowly axed out updates for the Xbox 360 and PS3, including the Heists and other cosmetic changes. The most recent update before this last one involved the lowriders and brand new customization features. Those features were not available to the Xbox 360 and PS3 crowd due to memory limitations.
They also added in a free-roam chaos mode that gamers had been waiting for since forever, once again that was only limited to the Xbox One, PS4 and PC.
This newest update is also limited to the newer consoles even though it's not particularly taxing on the hardware. Rockstar had already mentioned that they would be phasing out support for the seventh gen consoles for GTA Online over the years. I just wonder what sort of transition will take place when they eventually launch GTA VI and how that's going to work?
I guess there's no need to worry about that right now because you can enjoy some Running Back in GTA Online over the Thanksgiving holiday weekend.
Your Daily Blend of Entertainment News
Staff Writer at CinemaBlend.
Your Daily Blend of Entertainment News
Thank you for signing up to CinemaBlend. You will receive a verification email shortly.
There was a problem. Please refresh the page and try again.