GTA 5 Cost $265 Million To Develop And Market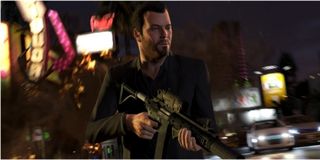 Whenever the subject of ballooned budgets enters into the picture, one can't help but draw up a comparison to Rockstar Games, the edgy developer for some of the most well known and recognized brands in gaming. Well, we're talking about ballooned budgets today so you can chalk one up for Rockstar Games once again.
In an interview with Scottish media outlet, The Scotsman, some of Scotland's creative heads working within the media industry chimed in on the success (and potential success) of the series. One of the things worth noting is that, according to the Scotsman, Rockstar has spent £170 million, roughly $265 million in U.S., dollars, to develop, produce and market Grand Theft Auto V with a staff of over 300 designers, artists, programmers, mappers and modelers. That's about equivalent to a moderately budgeted Hollywood blockbuster.
This production ranks up there with other titles like Sega's Shenmu II, which cost $100 million to produce, as well as the original GTA IV, which also cost just over $100 million to develop and market. The budget for GTA V dwarfs those previously mentioned titles by a large margin and actually ranks up there with EA's Star Wars: The Old Republic, which is said to have a budget of $200 million. However, there were some discrepancies involving SWTOR, given that a large portion of that was believed to go toward voice acting and licensing fees to LucasArts, as hinted at by Activision Blizzard's CEO, Bobby Kotick.
Regardless of comparisons, $265 million is a heck of a lot of money. Just for reference, Gears of War cost $10 million to produce; Naughty Dog's Uncharted 3 cost about $25 million to produce and Quantic Dream's Heavy Rain cost $20 million to produce and another $20 million to market, bringing the total budget to $40 million.
Despite having one of the most bloated budgets in video game history, Rockstar and parent company Take-Two Interactive are confident that the game will sell like crazy. GTA V is already poised to surpass sales of Call of Duty: Ghosts given its pre-order numbers alone, and according to the Scotsman article, Rockstar isn't too worried about costs since the newest game in the GTA series is poised to make $1 billion before the year is out, with an estimate of more than 25 million SKUs to be shipped to retailers around the world.
This is definitely risky business here, but Grand Theft Auto V is arguably one of the most recognized brands in media entertainment today. In fact, you might be hard pressed to find anyone who watches television, streams content or reads the news and hasn't heard of Grand Theft Auto. So the brand is certainly big enough to command $1 billion dollars out of the gate, the same as Call of Duty each and every year.
GTA V is set for release on September 17th next week for the Xbox 360 and PlayStation 3. It looks like The Last of Us is going to have a hard road to run toward a Game of the Year Award.
Staff Writer at CinemaBlend.
Your Daily Blend of Entertainment News
Thank you for signing up to CinemaBlend. You will receive a verification email shortly.
There was a problem. Please refresh the page and try again.