Call Of Duty: Black Ops 2 Earns $1 Billion Quicker Than Modern Warfare 3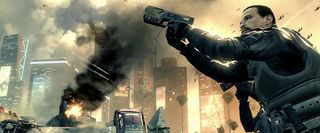 The Call of Duty series continues to be a big cash cow for Activision. Today the publisher announced that COD: Black Ops 2 earned $1 billion in its first 15 days on store shelves.
Black Ops 2 made about $500 million of that money during its first day. It wasn't clear whether its launch day had bested that of predecessor Modern Warfare 3. However, Black Ops 2 did manage to make ti to the $1 billion mark a day faster than MW3. That should help calm concerns that the series has stopped growing.
Call of Duty has steadily grown into a leading brand in the entertainment industry since its debut in 2003. In addition to out-earning other video games, it bests some of the highest-grossing films as well. The sales for the franchise are now higher than the worldwide box office earnings for Harry Potter and Star Wars. Both MW3 and BO2 managed to outpace James Cameron's film Avatar, which set records for feature films by earning $1 billion in 17 days.
BO2 should continue to be a solid earner throughout the year thanks to DLC. Activision previously announced that they have four DLC packs planned for the game, each priced at $15. They're also offering a Season Pass that provides access to all four for $49.99. The Season Pass is already on sale so it's possible that Activision included the revenue from that in BO2's $1 billion sum.
Judging by the sales, most people who were interested in the game already bought it. However, if you're still on the fence, read our review.
Staff Writer at CinemaBlend.
Your Daily Blend of Entertainment News
Thank you for signing up to CinemaBlend. You will receive a verification email shortly.
There was a problem. Please refresh the page and try again.