GTA 5 Invades New York Film Festival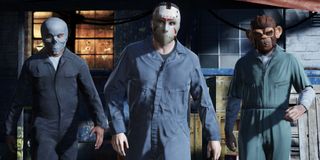 Grand Theft Auto V will have a major presence at New York Film Festival this weekend. The open-world crime game, an official selection for the Festival's Convergence Program, will be the subject of two panel discussions as well as a concert.
"These NYFF Convergence events aim to examine GTAV from multiple angles, giving our audience multiple ways to explore what has already become one of the most compelling works in the genre," said programmer Matt Bolish. "The heart and soul of NYFF Convergence is storytelling and Rockstar Games has proven with GTAV that they are simply the best when it comes to creating narrative, cinematic experiences in games."
The first panel discussion, "Visit Los Santos and Blaine County," will be held on September 29th at 3:30pm at the Elinor Bunin Munroe Film Center. Members of Rockstar Games will discuss the creation of GTA V's massive game world. They'll also talk about the game's story, which switches between three different characters' perspectives. Adam Sessler, former host of X-Play and current Rev3 executive producer, will moderate the discussion.
The following day, GTA V composers Tangerine Dream, Woody Jackson, and The Alchemist & Oh No will perform the game's score along with several supporting musicians. The 9PM concert is being held for a small audience at the Church of St. Paul the Apostle. Tickets can be purchased here for $40. If you pay $125, you can get access to the concert as well as an after-party at Le Poisson Rouge featuring sets from DJ's Flying Lotus and Giles Peterson, the hosts of FlyLo FM and Worldwide FM in GTA V.
On October 1st , the game's composers will hold a panel discussion with Rockstar Games music supervisor Ivan Pavlovich. The group will talk about crafting GTA V's dynamic musical score, which changes in response to player actions. That event kicks off at 8PM and, like the first panel, will be held at the Elinor Bunin Munroe Center.
This isn't the first time Rockstar has brought their game to a film festival. L.A. Noire appeared at Tribeca FF a couple years back. Noire, a detective story set in 1950's Los Angeles, was the first game to be made an Official Selection by the festival. It's interesting that they'll make it to these film events but then skip gaming conventions like E3 and PAX. I guess Rockstar just really doesn't like leaving New York to hype their game. It doesn't look like they need to, either.
Image 1 of 4
Your Daily Blend of Entertainment News
Staff Writer at CinemaBlend.