GTA 5 Lindsay Lohan Lawsuit Is Somehow Still Going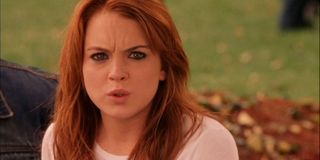 Lindsay Lohan's lawsuit against Grand Theft Auto 5 creators Rockstar Games is still proceeding. The actress' lawyers just replaced their initial 10-page complaint about the company with a 67-page document with new accusations.
The amended complaint centers around a prominent piece of GTA 5 artwork: a blonde girl in a bikini making a peace sign. This image was used in advertising and merchandise related to the game. It also appeared on the game's disc. Lohan's lawyers maintain that the art was based on a photograph of Lohan from 2007.
However, that image was actually based on model Shelby Welinder. She was hired by Rockstar to pose for the advertisement. Her photo was then turned into the stylized art seen in GTA 5's marketing. This makes it tough to believe that Rockstar used a 2007 photo of Lohan as inspiration.
According to Hollywood Reporter, Lohan's legal team states that Welinder was merely a "look-a-like model to evoke the persona and image" of their client. This seems like a hard thing to prove. Unfortunately for Lohan, there are many photos of blonde celebrities in bikinis out there. For example, one popular myth about the GTA 5 image was that it was based on Kate Upton. One Redditor made this case with a photo montage:
I don't doubt you could make similar montages for Yvonne Strahovski and Candice Swanepoel, two other celebrities popularly compared to the artwork. This bikini girl looks like a lot of women. The fact that Lohan's on that long list isn't enough for her to deserve millions from Rockstar.
Lohan's initial lawsuit against Rockstar alleged that Rockstar based an in-game character on her as well. Lacey Jonas is a blonde actress that players help escape from the paparazzi. This allegation has the same issue as the new one, though: there are a LOT of people who fit this description.
Rockstar hasn't responded to Lohan's amended complaint yet. It will probably be similar to their response to the original lawsuit, which stated Lohan was simply seeking attention.
"Lindsay Lohan complains that her image and persona have been wrongfully used by Take-Two in the video game Grand Theft Auto V, but her claim is so legally meritless that it lacks any good-faith basis and can only have been filed for publicity purposes," they said at the time.
The company also added that GTA 5 is a fictional story set in a parody version of California. They said that there's no resemblance between Lohan and any in-game character and even if there was, this virtual portrayal would be protected under the First Amendment.
Earlier this year, former Mob Wives star Karen Gravano also sued Rockstar. She alleged that GTA 5 character Antonia Bottino was based on her life story. That case is apparently still pending.
Your Daily Blend of Entertainment News
Staff Writer at CinemaBlend.