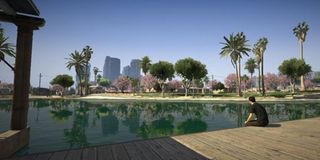 Grand Theft Auto V is still a week away but you can start plotting your path of destruction right now. The official map of the game world has apparently been leaked to the Internet.
GTA V takes place on a land mass composed of two counties, Los Santos and Blaine. Blaine is the more rural of the two. In the center is a salt lake called Alamo Sea. To the north is Mount Chiliad, the tallest point on the map. South of Alamo Sea is the Grand Senora Desert. Sandy Shores, the home of crazy old Trevor, can be found here. Grapeseed, an agricultural community, is just down the road.
Fort Zancudo is near the border of Blaine and Los Santos counties. It's a huge military base with runways for aircraft. I imagine this will be a popular stop for players, as it almost certainly has a fighter jet or two to commandeer. They won't miss it, right?
Los Santos County is dominated by the city of Los Santos. However, the city only takes up about a third of the region. There's still plenty of wilderness to explore, including Banham Canyon, the Tataviam Mountains and the Palomino Mountains. Other places of note in the county include the Marlow Vineyards, a wind farm, the National Office of Security Enforcement and a prison. Perhaps you'll break someone out of that penitentiary - or wind up in it yourself.
Then there's Los Santos itself. Like its real-world inspiration Los Angeles, Los Santos is a large and diverse metropolis. The poorer residents live in South Los Santos, the home to Grove Street Families and other gangs. Franklin, a former member of Grove Street, calls that corner of the city home. The wealthy reside in neighborhoods like Vespucci, Del Perro and Richman. Rockford Hills, another high-class neighborhood, is where Michael lives with his family. The city's entertainment industry is based in Vinewood, and a massive "Vinewood" sign dominates the hillside north of the town.
Los Santos also has a port and an international airport. That should give players easy access to airplanes or boats early on in the game. Maybe you'll even find a submarine at the port.
The map revealed today looks very similar to the one pieced together by fans. The main difference is that the fan map had a massive island to the southwest of Los Santos. The island is cut off by this latest map but presumably still exists in the game. It seems like it was based on Catalina Island, the tourist destination off the coast of Los Angeles.
You can see a larger version of the map here. GTA V will be out on September 17th.
Your Daily Blend of Entertainment News
Staff Writer at CinemaBlend.