GTA 5's Future Updates Might Skip PS3 And Xbox 360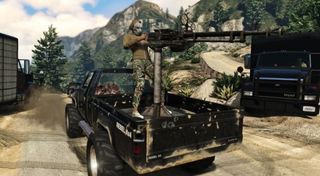 In my opinion one of the biggest hold-ups for GTA V really indulging in its true capabilities is that it was made for the Xbox 360 and PS3. Well, for those of you who actually want to see the game grow beyond the limitations of the seventh generation, you might be getting your wish with future updates for the game.
Game Informer picked out an interesting answer from Rockstar in a recent Q&A session where they talked about future updates and the impending moment when some updates will be available for only the Xbox One, PS4 and PC.
As noted in the session, Rockstar stated...
I understand that a lot of Xbox 360 and PS3 owners might be disappointed to hear this, but it's been building to this moment for quite some time.
In fact, the PS3 10GB SKUs have been left behind already and are no longer compatible with GTA V. I imagine it will get to a point where it will move right on up the ladder, from the 20GB units to the 30GB units and so on and so forth.
But it's not just the limitation of hard drive space driving the move away from the seventh generation home consoles. RAM, processing power and GPU capabilities all play a part in what can and can't be done in GTA V. If you remember from a while back, there were certain rendering features used in a weather effect that was completely removed from the Xbox 360 and PS3 version of the game.
If Rockstar has plans to make use of certain rendering capabilities of the RAGE technology or push for certain missions and scripts in upcoming heists, they're likely making it known now that the really big updates will soon supersede the capabilities of the very aged and decrepit technology housed within Xbox 360 and PS3.
There are still a ton of missions and quests from the XMLs that leaked last year that have yet to make it into the game. That's not to mention that Rockstar recently admitting that they had a tough time finishing the heists and structuring them into the game kind of gives away that the technical ceilings are not easy to overcome. The limited hardware tech also lends itself to the unfortunate reality that the first wave of heist features are somewhat disappointing.
I would imagine that the development team would likely want to focus on pushing what boundaries they can and add in all the cool stuff that gamers are expecting the GTA Online mode to achieve, but they certainly can't do that by catering to the lowest common technical denominator.
Hopefully, as Rockstar begins to step away from the seventh gen consoles and focus more on the eighth gen capabilities, we can see what they have in store for the new generation of GTA Online features.
Staff Writer at CinemaBlend.
Your Daily Blend of Entertainment News
Thank you for signing up to CinemaBlend. You will receive a verification email shortly.
There was a problem. Please refresh the page and try again.