GTA 5 Online Heists Achievements, File Size Revealed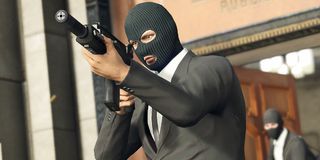 Rockstar Games will release the long-delayed online heists for Grand Theft Auto 5 this week. However, some players have managed to figure out some crucial details about the update in advance.
For starters, here are the nine Achievements you can earn through GTA 5's heists on Xbox One and Xbox 360 (via XboxAchievements):
Shot Caller (10) - Invest your hard earned cash to set up a Heist.
Four Way (10) - As Heist Leader set the Finale cut as 25% across all players.
Live a Little (50) - Spend a total of $8,000,000 purchasing vehicles included as part of The Heists Update.
Can't Touch This (30) - Complete a Heist Finale without taking any damage.
Mastermind (50) - Earn 25 platinum medals across Heist Setups and Finales.
Be Prepared (10) - Complete a Heist Setup mission.
In the Name of Science (30) - Complete The Humane Labs Raid and Series A Funding as Heist Leader or Crew.
Dead Presidents (30) - Complete The Fleeca Job and The Pacific Standard Job as Heist Leader or Crew.
Parole Day (30) - Complete The Prison Break as Heist Leader or Crew.
The Trophies for PS3 and PS4 haven't been published anywhere yet but will probably have similar requirements.
GTA 5's online heists update is supposed to roll out on Tuesday. However, some players were able to force the update ahead of time and learn its file size (via Reddit):
The reason the update is so massive is that it's not limited to just heists. Rockstar announced earlier this week that the patch includes new competitive modes and features for GTA 5 as well.
The players that figured out how to access the patch early can't actually perform these cooperative heists yet. The actual content of the patch is currently inaccessible. I do hope that Rockstar gives everyone the opportunity to preload these files, though, so everyone doesn't spend the first days of heists simply waiting for the download to complete.
In GTA 5's cooperative heists, four players team up to perform lucrative jobs like bank robberies or prisoner rescues. During these jobs, they'll have new gear and vehicles at their disposal.
Online heists will be added to console versions of the game on March 10th. They'll be available on PC as soon as that version launches in April.
Your Daily Blend of Entertainment News
Staff Writer at CinemaBlend.