Why GTA 5's Online Heists Are Taking So Long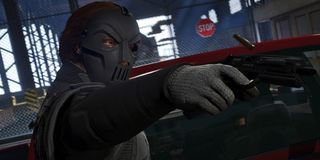 GTA Online's cooperative heists still aren't in the game a year after they were announced. In a new apology to players, Rockstar explained the delay and promised a free gift.
"Heists were a much bigger challenge to create than we had originally anticipated," the studio said in a new Q&A on Rockstar Newswire. "Early versions were simply not good enough and had to be scrapped more than once as we honed in on how we thought they should work. We're happy to say that the pack we are now finalizing is something we are excited by and eager to release as soon as it is ready."
Yesterday they announced that heists are now scheduled for early 2015. They reiterated today that they're "confident" in that estimate. They're not ready to name a specific date yet, though.
"We, as a company, have always been about trying to make something that is good rather than hitting a date. We apologize when this gets frustrating but firmly believe that rushing out second-rate content does not do anyone any favors. Hopefully you agree that yesterday's new Trailer is a sign that Heists are shaping up nicely, but we still need some time to fine tune them."
Rockstar does have a consolation prize to tide players over until heists' release, though. They promised that they'll give everyone "a small Christmas gift." Later on in the Q&A, they mention that "a few seasonal treats" will be released through GTA Online on all four consoles. Maybe we'll see a special event much like the DLC weekends?
Online heists are the most anticipated feature for GTA Online. It's easy to see why. The elaborate heists in GTA 5's single-player mode were the highlights of the experience. The thought of being able to perform missions like that with friends online sent players into a frenzy. Some have creating their own mock heists in GTA Online while they wait. Another player created a snarky countdown site
Rockstar released the first details on this feature yesterday. Heists will be four-player missions with a mixture of driving, shooting and sneaking. These elaborate capers will include a bank robbery and a prison rescue. Players will have new cars, weapons and items at their disposal during the heists.
In another attempt to placate gamers, Rockstar released two new screenshots from GTA Online's heists. You can check them out in the gallery below.
Image 1 of 2
Image 2 of 2
Staff Writer at CinemaBlend.