GTA 5 Online Heists Screenshots Leaked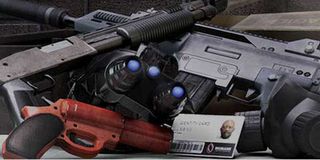 It's been awhile since Rockstar Games has shared any new details about GTA 5's online heists for a few months. Fortunately, a new batch of leaked screenshots are here to tide us over.
The screenshots give us a look at some of the vehicles that players will have at their disposal when performing these heists:
The same Twitter user also shared images of the heist equipment, which include thermite, a drill and masks. As others have noted, we saw many of these images in the original Heists trailer. They were the photos tacked onto the heist team's bulletin board during their planning. This is the first time we've seen them blown up to full size, though.
GTA 5's online heists let four-players team up to get big scores. They're reminiscent of the multi-step heists seen in the single-player campaign. The missions previewed so far include a prisoner rescue and a bank robbery. This feature will be available on all versions of the game.
We've been waiting for heists for well over a year now. However, the release date kept being pushed back throughout 2014. In December, Rockstar said the feature would be available in "early 2015."
"Heists were a much bigger challenge to create than we had originally anticipated," the studio said at the time. "Early versions were simply not good enough and had to be scrapped more than once as we honed in on how we thought they should work. We're happy to say that the pack we are now finalizing is something we are excited by and eager to release as soon as it is ready."
Rockstar hasn't announced a release date for the cooperative heists yet. However, they did confirm that they'll be available by the PC version's launch in March.
Your Daily Blend of Entertainment News
Staff Writer at CinemaBlend.