GTA 5 PS4, Xbox One, PC Versions Have First-Person Mode?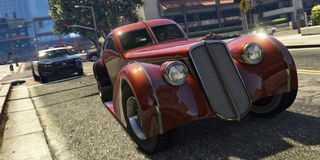 GTA 5's new-gen versions may introduce an interesting new feature. A new post on the Rockstar Support site says that the PS4, Xbox One and PC editions will introduce new first-person cameras.
The Support site says that players can use the first-person view for vehicles "shows the interior of the vehicle, including working speedometers, tachometers, dash lights, and more." That would mean Rockstar's created cockpits for all the different vehicles in the game.
The first-person camera on foot probably resembles this fan mod released in June:
I'm hoping that there's a seamless transition between the on-foot and in-car camera views. It would be a nice touch if you were still in viewing the game through your character's eyes as you climbed into the car. Doing that kind of animation for every type of vehicle may be too time-consuming, though.
The details on the first-person camera were mentioned as part of a larger Rockstar Support entry about GTA 5's new features for PS4, Xbox One and PC. That same page also mentioned new random events and Easter eggs in Story Mode, new animals, and an improved character selection screen.
It should be noted, however, that Rockstar has taken down that page since gamers first noticed it. It looks like it was a rough draft that was published prematurely. That would explain why one of the items on the bulleted list of features is simply "Animals in GTA Online?" Fortunately Google has a cached version of the page, giving us a peek at what these new-gen versions of the game may offer.
Rockstar Games announced a ton of other features for GTA 5 last week. Players can expect new vehicles, weapons and activities. The radio stations feature over 100 new tracks as well. On top of all that, Rockstar has made numerous technical improvements such as greater draw distance and more detailed damage.
Players upgrading from the PS3 or Xbox 360 versions of GTA 5 will get exclusive in-game content as well. Their rewards include classic vehicles, shooting range challenges and wildlife photography. The Rockstar Support article that mentioned the first-person camera also says that these double-dippers will unlock "free new weapons and a free garage in GTA Online." You can only unlock those rewards by importing your GTA Online character over from PS3 or Xbox 360, though.
GTA 5 is set to hit PS4 and Xbox One on November 18th. The PC version will be out on January 27th.
Staff Writer at CinemaBlend.
Your Daily Blend of Entertainment News
Thank you for signing up to CinemaBlend. You will receive a verification email shortly.
There was a problem. Please refresh the page and try again.