GTA 5 Screenshots: Strippers And A Transport Chopper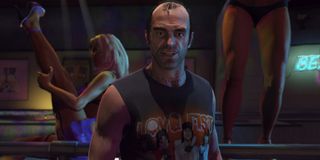 Eleven new Grand Theft Auto V screenshots were sent out by Rockstar Games this morning. This latest batch shows the game's three protagonists enjoying some time apart.
Trevor, the reckless psychopath of the trio, obviously has the most colorful screenshots. In one, he's being pulled off while riding an ATV in his underwear - I'll bet there's a good story there. In another, he's hanging out at a strip club. Notice that he's wearing a Love FIst t-shirt. Perhaps that heavy metal band, first introduced in GTA: Vice City, will make an appearance in Los Santos as well. If nothing else, I bet their music will be on the oldies station.
In one of Franklin's screenshots, he's trading gunfire with an unseen enemy while riding a motorcycle. Franklin seems to be the most skilled driving of the crew so you can expect plenty of moments like this. He's able to slow down time while driving so he can pull off amazing high-speed feats.
Michael, the retired bank robber, appears to be the "adult" of the group. Even though his retirement isn't complete, he seems to engage in more sophisticated activities than his friends. The gameplay trailer showed him playing tennis, golf and other yuppie favorites.
I'm very happy that GTA 5 will be bringing back the sky-diving activity from San Andreas. One screenshot demonstrates the sort of potential that parachutes bring to the game. Franklin has been surrounded by police on a bridge. Instead of fighting his pursuers, he decides to leap off the bridge and glide down to the canyon below.
The screenshots also show a new vehicle that players can get their hands on: a military transport helicopter. It looks like it's a Sikorsky CH-53E. Vehicles in GTA typically don't have real-world model names, though. I'm sure Rockstar will think of a colorful alternate name.
The crashing luxury plane from a previous set of screenshots makes another appearance here as well. An older screen showed Franklin chasing the plane on his motorcycle as it descended. Rockstar hasn't outlined the story of this particular mission yet but we'll find out soon enough, I'm sure.
Image 1 of 11