Gearbox CEO Spent $10 Million Of His Own Money On Aliens: Colonial Marines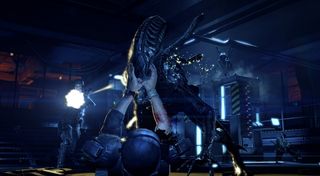 Randy Pitchford has been caught in a crossfire on social media. The president of Gearbox Software was supposed to be taking part in a Q&A session hosted by Develop: Brighton, the premier game developers conference from out of Brighton, U.K. However, the session was hijacked by angry fans.
Gamespot tries to gather a reasonable, evenhanded approach to the situation, but it's a flaming mess. Pitchford's Twitter account has lit up after Develop: Brighton started the hashtag #AskRandy.
Instead of getting a lot of positive questions about Gearbox Software's upcoming cooperative first-person shooter, Battleborn, Pitchford was put under the microscope of the Twitter inquisition. The tweets are all based on answers the gaming community never received regarding the development of Aliens: Colonial Marines, some of the DLC practices associated with Borderlands, and the litigated claims of fraud attached to the lawsuit involving Sega, Gearbox Software and Aliens: Colonial Marines. Pitchford attempted to absolve himself of wrongdoing by admitting his own financial role in the development and financing of the game, writing on Twitter that he invested $10 million into the project...
Pitchford goes on to defend the game's story, the game mechanics and design philosophy. His Twitter replies are mostly him playing on the defense.
Just for historical reference: Aliens Colonial: Marines was lambasted by the gaming audience for being nothing like the demos leading up to its release. It launched glitchy and with numerous problems with the mechanics, the AI and the physics. It required multiple multi-gigabyte patches to address some of the launch-day issues.
Sites like Gameranx and Jim Sterling's own Jimquisition.com offered insight into why gamers are so angry at Gearbox Software, where tweets like the following flooded the #AskRandy social media Q&A.
As mentioned, Jim Sterling was quick to cover the news because he was the one journalist instrumental in breaking open the story a few years ago about the scandal happening between Sega, Gearbox Software, Timegate Studios and the mess that was Aliens: Colonial Marines. Claims of embezzlement were thrown around, allegations of corruption surfaced, and eventually a lawsuit was levied at both Gearbox Software and Sega Sammy for their role in the false advertisement of Aliens: Colonial Marines.
Gearbox worked hard to try to get their name out of the lawsuit, but in the eyes of gamers their reputation was already sullied.
For Battleborn it's going to be an uphill struggle for them to wipe away a lot of the ill-feelings that gamers have embraced whenever the name "Randy Pitchford" is brought up and the studio "Gearbox Software" is mentioned. So long as they keep their past out of the spotlight they might be able to win over gamers less interested in consumer rights and policies and more interested in simply paying for the next Gearbox Software experience.
Your Daily Blend of Entertainment News
Staff Writer at CinemaBlend.