Aliens: Colonial Marines PC Patch Is 3.5GB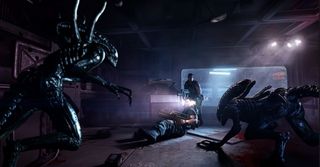 The long rumored patch for Aliens: Colonial Marines has finally dropped and it's finally available for PC. It includes patches introduced to the console version as well as texture improvements, an overhaul to the AI systems, difficulty adjustments, animation fixes, and a ton of other bug fixes that one would have expected a complete game to have.
According to Blues News, the patch was advertised as 4GB, which is about half the size that the patch was rumored to be to bring the game up to parity with that tech demo, but the actual patch is only 3.5GB, compressed. That in itself is still big enough to be a game all its own, so Gearbox obviously did some major retooling to the game, which should enable it to have a completely different look and feel from before. If not, then they still have a ways to go.
Aliens: Colonial Marines was a pretty big festering blot on the image of Gearbox Software and it looks like the company is at least making some amends to one of the biggest controversies of the year.
The company also will need to regain some good will after the Aliens: Colonial Marines fallout, and this rings especially true if they plan to sell the new DLC for Borderlands 2. While Gearbox will obviously be able to restore their reputation with a lot of top notch releases, they're not quite out of the dog house yet and the road to redemption is paved with a lot of good will.
You can check out the complete list of changes in the patch over on Gearbox's website.
Staff Writer at CinemaBlend.
Your Daily Blend of Entertainment News
Thank you for signing up to CinemaBlend. You will receive a verification email shortly.
There was a problem. Please refresh the page and try again.