Gears Of War 3 Forces Of Nature DLC Arrives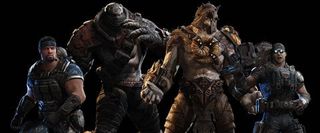 The fourth DLC pack for Gears of War 3 is now available. You can download "Forces of Nature" through Xbox Live Arcade for 800 Microsoft Points.
The "Nature" pack adds five multiplayer maps to GoW3. Two are remakes from previous games while three are brand new. All five feature some sort of unique weather condition, though: "Aftermath" (Flooding City), "Artillery" (Tornado), "Cove" (Fog), "Jacinto" (Rainstorm and Imulsion), and "Raven Down" (Snowstorm). Throughout these maps you'll find Elemental Cleavers, blades with special abilities.
This DLC resurrects Gears of War 2's Guardian mode as well. In Guardian mode, one player on each team is selected as leader. Teammates must protect him/her at all costs because when the leader dies, no one on the team can respawn anymore.
"Nature" also comes with a bunch of smaller bits of content. Four new characters and seven weapon skins will be unlocked for multiplayer. Players will be able to earn 250G worth of Achievements.
If you own the Gears of War 3 Season Pass, "Nature" can be downloaded for no additional charge. This is the last DLC pack covered under the Season Pass. Epic might make more DLC if player demand is high enough.
Image 1 of 6
Your Daily Blend of Entertainment News
Staff Writer at CinemaBlend.