Gears Of War: Judgment Season Pass Provides Double XP, Six Maps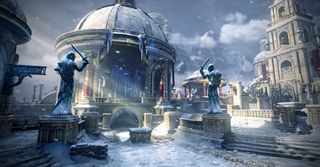 Gears of War: Judgment will offer a VIP Season Pass for its DLC, Epic announced today. This $20 pass provides two DLC packs as well as several other perks.
The two add-ons covered under the Season Pass provide six maps and two new game modes, along with a number of weapon and armor skins. Pass holders will be able to play the new maps before everyone else, though the length of this early access period wasn't mentioned.
Season Pass members will also get five weapon skins and four armor skins. All of those skins are exclusive to the Pass program. That perk pales in comparison to the last one though: permanent double XP. That might be a little too generous. I'm guessing there's going to be a lot of "pay to win" accusations hurled around.
Not all of the post-launch DLC for Judgment costs money. MAXIM is apparently sponsoring the release of two free maps and Execution Mode. Execution Mode is like Team Deathmatch, except enemies need to be killed with melee finishing moves or one-shot weapons to prevent them from reviving.
The two maps are called Haven and Capitol. The first screenshots from Haven are below. It depicts a monastery in the Azura Mountains. Though it's sponsored by Maxim, the players haven't been transformed into power armor-clad clones of Kate Upton.
Staff Writer at CinemaBlend.
Your Daily Blend of Entertainment News
Thank you for signing up to CinemaBlend. You will receive a verification email shortly.
There was a problem. Please refresh the page and try again.