Genius GX Gaming Maurus X FPS/RTS Gaming Mouse Now Available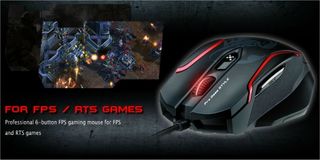 If you like gaming peripherals with names long enough to be their own dictionary, you'll definitely dig the new mouse from Genius, a peripheral maker who has released the new Maurus X FPS and RTS gaming mouse, which is now available in North America.
The six-button mouse is designed for competitive gaming; it's not the sort of mouse you dilly-daddle around with in stuff like MS Paint or the AARP app. The Genuix GX Gaming Maurus X is all about showing off your amazing digital PC gaming skills to all the lesser plebs out there who settled for a standard-fare OEM mouse or some generic brand from the backwood China shops on eBay.
If you're looking to land some mean headshots, some incalculably accurate base building spots or some hype-inducing unit flanks in the latest eSports title, you'll need a mouse that allows you to make good on some impressive DPI and precision handling. The Maurus X is primed and ready to suit whatever hardcore gaming need that you desire.
As noted in the press release...
Even more than that, the mouse sports custom macro settings for those of you who indulge in the forbidden arts of MMO skill-spamming. A specially made GUI allows users to assign up to eight custom macro settings for the Maurus X across the mouse's six-button configuration.
With 20G mouse acceleration, 60IPS and weighing in at only 6.3oz or 178 grams, you'll have yourself a lightweight device of mean gaming maelstrom that will put fear in the fingertips of your opponents and sun-tinted liquids in the seat of their pants.
The best part about it is that unlike the BMW M 10 Gaming Mouse or anything from Logitech or SteelSeries, the Maurus X won't cost you an arm and a leg. Instead, you'll be able to grab the device for the meager price of only $49.90, right now from their official website.
Does it really get any better than that? Well, if the mouse was free and came with a Russian model, I guess it could get better... but still, for that price and with those features that's almost better than a free supply of Kleenex and a YouTube playlist of Victoria Secret's lingerie line. Sorry, we don't have any links for that last one... but if you still have that Kleenex you can make good on it with Arnold's motivational bodybuilding workout video.
Staff Writer at CinemaBlend.
Your Daily Blend of Entertainment News
Thank you for signing up to CinemaBlend. You will receive a verification email shortly.
There was a problem. Please refresh the page and try again.