Geometry Wars 3: Dimensions Interview Demonstrates Game's Depth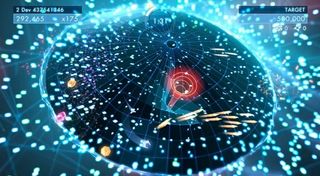 The title, Geometry Wars 3: Dimensions, says a lot more about the game than you might expect. Traditionally a 2D twin-stick shooter, this latest iteration is taking the series into the third dimension, adding a bit of additional depth in terms of both visuals and content. Slated to arrive on new and last-gen consoles later this year, a recent video interview with Producer Peter Cesario gives us a sneak peak at what we can expect out of the game.
Popping up on the PlayStation Blog this afternoon, Cesario's interview should be more than enough to get longtime fans of Geometry Wars excited. The series launched on the Xbox 360, which is where the first sequel also resided. For the game's trip into the third dimension, Geometry Wars 3 will call four consoles home, including the Xbox 360, Xbox One, PlayStation 3 and PlayStation 4.
Even if you haven't played Geometry Wars before, you've probably played one of the many titles that evolved as a result of its success. It's more or less the birth place of the modern dual-stick shooter, and even this third game in the series bears the traditional, minimalistic aesthetics. That's not to say that all of those glowing lines and projectiles don't look super sharp in HD, though.
While games like Super Stardust HD owes at least some of its inspiration to Geometry Wars, it looks like Geometry Wars is taking a few pages from Stardust's book this time around, introducing 3D worlds that revolve as you fly about and even boss battles to master.
"We really wanted to push the visuals further than we ever did before," Cesario said. "And not only the visuals, but also the variety."
Along with that new look and boss fights, Geometry Wars 3 will feature all of its classic modes, as well as some new additions. Peter Cesario highlights "Claustrophobia" in his interview, a mode that forces the player to fly around in a smaller environment as the border walls grow closer and closer.
Another new addition to the series are companion drones, which can give you helpful abilities like extra firepower, or basically a roving vacuum that zips about and sucks in pick-ups for you. There's also four-player simultaneous co-op this time around, as well as another much-requested feature.
"For the first time in the franchise, we're introducing online competitive play as well," Cesario said. "That's for up to eight players, four versus four."
And, for all of you wondering how well the game plays, SCEA Social Media Specialist Justin Massongill said there's nothing to worry about.
"It's not easy to live up to the Geometry Wars pedigree, but a recent hands-on run of one of the game's earlier stages was all the assurance I needed...," he said.
Staff Writer for CinemaBlend.
Your Daily Blend of Entertainment News
Thank you for signing up to CinemaBlend. You will receive a verification email shortly.
There was a problem. Please refresh the page and try again.