Super Stardust HD Blasts Into Stellar Sale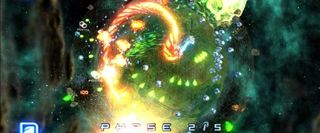 Super Stardust HD is turning five and, to celebrate, the developers at Housemarque are offering an out of this world deal; the game, plus all thee DLC add-ons, for the low-low price of $7.99.
Super Stardust HD hit the scene half a decade ago and, for some reason, that fact is making me feel really, really old. I know it's only five years we're talking about here, but it feels like this latest generation of game consoles kicked off just a little while ago. Where does the time go?
But enough musings from Old Man Winslett, you came for a celebration. If you've somehow managed to miss out on the Stardust experience after all of these years, now is the time to jump on in. The core game offers five planets worth of asteroid blasting to master with the DLC packs adding co-op missions, multiplayer competitions and multiple new game modes.
Along with being one of the bestselling titles on the PlayStation Network, Stardust is also one of the only games to offer a 60 fps 1080p 3D experience. If you have a nice enough TV to take advantage of all of that technical wizardry, Stardust will wow you. Stardust also happens to be the first ever PlayStation game to feature Trophies, so you could consider this an investment in a small, downloadable piece of history.
The Super Stardust HD super sale will only be going on for a couple of weeks, so you might want to act soon if you're planning on picking up the full package at the discounted $7.99. The sale runs from now through Sept. 5.
Your Daily Blend of Entertainment News
Staff Writer for CinemaBlend.
Your Daily Blend of Entertainment News
Thank you for signing up to CinemaBlend. You will receive a verification email shortly.
There was a problem. Please refresh the page and try again.