Grand Theft Auto 5 Can Import Max Payne 3 Multiplayer Crews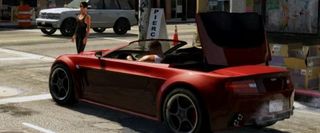 Rockstar Games is hoping to make the players' transition between Max Payne 3 and Grand Theft Auto V's multiplayer as smooth as possible. The crew you build in MP3 can be used in GTA V as well.
"Multiplayer is an ever-more important part of all our games moving forward," Rockstar's Dan Houser told IGN. "And by creating crews through Social Club, the crews that you create in Max Payne 3 will be ready and available for you to play in Grand Theft Auto V from day one. It's all part of our larger approach to make multiplayer deeper and richer than what's currently available, much more easily accessible to the newcomer and rewarding for the hardcore."
Crews are groups of players that you can form through the Social Club. You'll earn XP bonuses by playing with fellow crew members and get access to custom emblems. You can also feud with other crews and gain extra XP by killing its members.
"We are firm believers in the potential of third-person multiplayer and the attachment it can create to character, stories and worlds," said Houser. "This is at the heart of what we're doing with crews, and we think it opens up limitless new possibilities for the future. It's right at the heart of our goal to bring greater weight and context to multiplayer games while still staying true to what competitive multiplayer does so well."
Max Payne 3 will arrive worldwide in May. Grand Theft Auto V is currently undated but the rumor is that it'll arrive next year.
Your Daily Blend of Entertainment News
Staff Writer at CinemaBlend.