Grand Theft Auto Liberty City Stories And Vice City Stories On PSN Next Week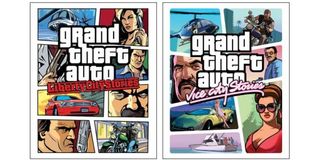 The Grand Theft Auto series is about to have an even bigger presence on the PlayStation Network as Rockstar Games announces the impending release of Liberty City Stories and Vice City Stories for the PlayStation Network. Both games will be a part of the PlayStation 3 Classics collection and retail for $9.99 a pop.
If you're Rockstar, it looks like crime really does pay, as they've been making a killing off of the Grand Theft Auto games for quite a long time at this point. And with Grand Theft Auto V due out later this year, players can catch up on a couple of missing links to the series on PSN with next week's release of two great games.
Originally available on the PlayStation Portable, Liberty City Stories and Vice City Stories were eventually shined up and ported over to the PlayStation 2. While you can already swipe the digital versions of the PSP games off of PSN, this will be the first time players will have the opportunity to download the PS2 versions of the game, each for just 10 bucks.
In Liberty City Stories, the player takes on the role of Toni Leone as he tries to navigate a maze of crime, drugs and anarchy in an attempt to rise to the top of the family and run Liberty City however he sees fit.
In Vice City Stories, Vic Vance finds himself on the streets and unable to take care of himself, let alone his family. And if you want power in Vice City, you have to fight for it. Which is exactly what Vic plans to do.
If all of that crime, cars and, um, cocaine sounds like a good time, then you can grab both Liberty City Stories and Vice City Stories for 10 bucks a pop next Tuesday on PSN.
Staff Writer for CinemaBlend.
Your Daily Blend of Entertainment News
Thank you for signing up to CinemaBlend. You will receive a verification email shortly.
There was a problem. Please refresh the page and try again.