Guilty Gear Xrd: Sign Is 1080p On PS4, Supports Cross-Play With PS3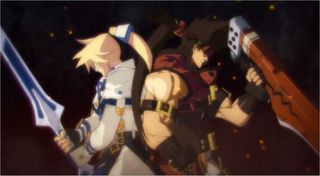 Sony is making sure that any game they can get on their system that can take advantage of full HD will and does take full advantage of full HD. In this case, Arc System Works is porting Guilty Gear Xrd: Sign from the arcades to the home consoles with a few tweaks, upgrades and highly anticipated features to help the game stand out more than it already does.
Gematsu is reporting that Famitsu has revealed some brand new details about the Unreal Engine-powered fighting game due for release on PlayStation systems this fall.
According to the article...
Can you believe that? It's not 792p on the PS4, it's not 810p on the PS4... it's not even 900p on the PS4. Nope, Arc System Works has gone full-in on full HD, offering new-gen adopters the full monty at 1920 x 1080p.
If the game can maintain 1080p at 60fps without any drops or stutter, this will be one of the must-own fighting games of the fall.
But that's not all. Sony seems to understand that a lack of backwards compatibility truly hinders the online multiplayer atmosphere of many PlayStation 4 titles. What's their remedy? Well they have a tonic and gin called PSN and cross-play.
That's right, the upcoming Guilty Gear Xrd: Sign will enable players to play across the PS3 with PS4 owners. That's a pretty cool feature as it easily extends the multiplayer matchmaking pool to two generations of console gamers. It's also a smart move as it helps transition over the seventh gen to the eighth gen.
Now I know that cross-gen games are usually pretty limited in their scope due to accommodating old and aging hardware, but if a game is cross-gen and supports cross-platform play, then it's not too bad. However, if a game is cross-gen and doesn't support cross-platform play, it just makes the outing look more like a cash-in than a legitimate effort to provide gamers with something new and unique.
What's more is that PlayStation owners – covering both the PS3 and the PS4 – will have access to a brand new character. I'm not sure who the character is but there's plenty of time between now and the release date to speculate.
If you're not familiar with Guilty Gear Xrd: Sign, just check out the 3D gameplay trailer below and be amazed. I'm still trying to figure out how they managed to design 3D models with that level of sprite-oriented detail. It's amazing and impeccable.
You can learn more about the upcoming game by paying a kind visit to the official website.
Your Daily Blend of Entertainment News
Staff Writer at CinemaBlend.