H1Z1 Is Like DayZ For PS4, Early Access Starts Soon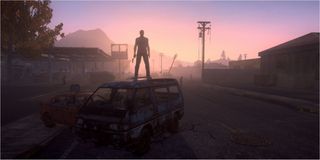 Sony Online Entertainment is working on a new MMO called H1Z1 for PC and PS4. The game is expected to head into its Early Access phase very soon, and the whole concept of the game is basically DayZ trying to get hocked up on steroids.
So GameTalk Live.TV managed to get some actual hands-on time with H1Z1, the post-apocalyptic zombie survival title, during the Everquest Next event in January. They had to keep their lips shut, their eyes from being shifty and their fingers from typing out anything even remotely related to H1Z1 after getting their hands on some exclusive footage of the game in its early alpha build.
However, you can check out the footage of the game below.
SOE president John Smedley seems super excited about the game and I can see why.
However, before we start putting rotting corpses in front of the carriage cart, let's take it slow and methodical like a professional escort pretending to be on a first date. While H1Z1 is coming out of the gate swinging punches at Rust and DayZ like Brock Lesnar coming at Frank Mir, we need to recognize that H1Z1 is still conceptually unproven at this point. And we won't know how well it'll be able to hang until players start logging in and the player-submitted error codes start getting logged.
Nevertheless, it's awesome that it's running on the same technology powering Planetside 2, and I can attest that the engine is probably the smoothest MMO engine I've experienced that powers a game that can handle as many players as it does on a single shard. Still, there's a big difference between Planetside 2 and H1Z1: AI.
Dean "Rocket" Hall ran into the same problem with DayZ, where compensating network load with AI proved to be a very challenging and difficult thing to overcome. It's still something they haven't quite fixed just yet, which is why zombies are still in sparse offering in the zombie-survival title.
I will say, however, that H1Z1 has potential to hit the ground running in a slightly more stable state than DayZ simply because vehicle modules, day and night cycles and player network management are already part of the base structure coming off the Planetside 2 engine.
Smedley is obviously excited about the game, as it features a lot of in-depth, meta-crafting and survival mechanics. However, given that the game will also be designed for the PS4, the team is still going to be facing some stiff hardware limitations on what is and won't be possible. Hopefully... hopefully, they sacrifice graphics for gameplay. In this case, 1080p should be put on the back burner, as dedicating resources toward player-count, zombie-count and environmental interaction would definitely be the more preferred route.
With base-building at its core, perma-death PvP being the through-and-through way to play, and having vehicles built in, voice-chat available from the get-go and system requirements that hover around the phrase "If you can run Planetside 2, you can run H1Z1 better", I can't wait to see this game in action when it actually launches.
This free-to-play title will launch its Early Access program within the next four to six weeks. You can learn more by paying a visit to the official H1Z1 sub-reddit.
Your Daily Blend of Entertainment News
Staff Writer at CinemaBlend.