Halo 5 Will Add Big Team Battle This Month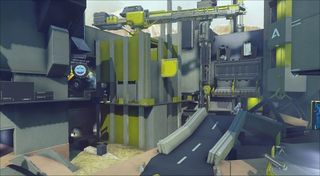 The Arena mode is designed to focus on Halo 5's eSports side. The mode is an intimate, fast-paced battle mode that favors skill and team work. Well, 343 Industries wants to put a spotlight on the vehicular aspects of the Arena mode as well as Big Team Battles.
Over on Halo Waypoint 343 rolled out details for the November update to Halo 5: Guardians. This includes a major update to the Arena mode that includes Big Team Battles, featuring maps created in Forge in collaboration with 343 that are based on classic maps from past Halo games.
The Big Team Battles are designed as a way to give gamers a bit more vehicular presence in the arena maps, instead of relying solely on the more intimate encounters that the mode focuses on.
As stated in the Halo Waypoint update...
The maps will give gamers a bit more out of the Arena matchmaking playlists, offering them some challenging maps recreated in the Forge that are based on favorites from Halo 2, Halo 3 and Halo 4.
The design of the maps are all pretty high-class. Although the Headlong map looks a little bit like a toy set. You can clearly see where a lot of makeshift parts were used to design the architecture and structures.
The Recurve map, based on Longbow, also looks a little bit like a Lego set using Halo parts. The Basin, based on Valhalla, actually looks pretty cool, though. The design of the map seems to lend itself less to the look and feel of a Forge map and more of that of a real Halo map. The structure and design has a very organic look and feel to it that separates it from the maps. Then again 343's multiplayer map team worked on Basin, where-as the other maps were collaborations between 343 and the Forge community map makers.
The Big Team Battle update will go live in just over a week for Halo 5, which will add the BTB rotation to the matchmaking playlist for the Arena mode.
343 Industries just recently dropped the latest November playlist update in addition to removing Orion from out of the rotation. Orion was removed due to having an easy-to-exploit glitch in the map that some players were using to get the leg up on the competition.
I imagine Orion will make a return to the rotation after it gets fixed right proper. In the meantime Halo 5 multiplayer aficionados can enjoy 15 new map and game mode combinations in the playlist. You can learn more by visiting the official website.
Your Daily Blend of Entertainment News
Staff Writer at CinemaBlend.
Your Daily Blend of Entertainment News
Thank you for signing up to CinemaBlend. You will receive a verification email shortly.
There was a problem. Please refresh the page and try again.