Halo 5 Won't Have Split-Screen Co-Op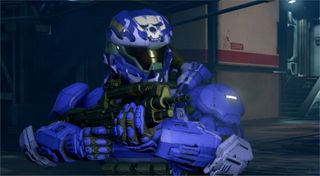 Halo 5: Guardians won't have a split-screen option for cooperative play. The feature has been a staple in the Halo series since coming onto the scene back in 2001, but it won't be in Halo 5.
Eurogamer has a rundown of the information from a Game Informer exclusive where they explain that 343 Industries has opted to abandon the split-screen co-op in the campaign mode. This is the first time that a major Halo first-person shooter won't support some form of split-screen co-op.
Why? Well, the team is apparently gunning for 60fps and they don't feel comfortable bringing down the game's frame-rate sim time to 30 for split-screen. That's usually how it works when games have split-screen: the single-player will run at 60fps and the two or four-player split-screen will run at 30fps. Mario Kart does it this way, Need for Speed does it this way, and Halo used to do it this way.
At this point, the game will still support campaign cooperative modes, specifically four-player co-op with the new Blue Team who will accompany Master Chief in his galactic adventures to restore peace to the galaxy and restore order and balance to the human race. The game will sport the presence of ODST member Edward Buck, who will be voiced and portrayed by Firefly's Nathan Fillion.
The game will also have another team featured in the game's campaign mode that will support four players: Fireteam Osiris. This second team will be led by Agent Jameson Locke, the star of Halo's Nightfall TV series. Locke and his three additional teammates will be controlled by players.
Halo 5: Guardians sounds like it'll be going back and using the story structure that was introduced in Halo 2, where players bounced back and forth between playing as Master Chief and the Arbiter. Not everyone was fond of the idea of having time balanced out between Chief and a member of the Covenant, but it was an interesting way to tell the story and I thought it really helped add some layer and depth to the overall universe of Halo.
Having the dual story come back to the campaign mode of a Halo game is kind of cool, but doing so at the cost of split-screen in the campaign mode is kind of unfortunate, especially considering that not everyone is cool with playing online using Xbox Live.
And yes, 343 Industries' Josh Holmes confirmed over on the Halo Waypoint website that...
So yes, you will have to go online to play the cooperative mode in the upcoming first-person shooter, and no you won't be able to play the campaign in split-screen.
The news hasn't gone down well with everyone, but that's the way the dice fall sometimes. Halo 5: Guardians is due to drop on October 27th for the Xbox One.
Your Daily Blend of Entertainment News
Staff Writer at CinemaBlend.