Halo: The Master Chief Collection Adds A Free Campaign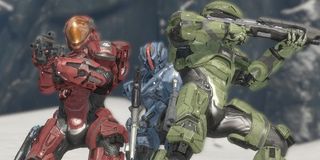 The Xbox One exclusive Halo: The Master Chief Collection received a large content update today. This patch fixes numerous bugs while also introducing an entire new campaign.
This new campaign is Halo 4's Spartan Ops mode. Spartan Ops was released for free in ten episodes following that game's initial release. Each episode contains five missions that can be played solo or with friends. Players can use custom loadouts just like in competitive multiplayer.
Spartan Ops takes place six months after the events of Halo 4. The story centers around the Spartan squads on the UNSC Infinity, the ship deployed to the shield world Requiem. Every episode has a new CGI cutscene to further the plot.
343 Industries originally planned to include Spartan Ops along with The Master Chief Collection at launch. However, they made the decision to delay its launch until December "to make sure it's smoother and even better than before."
In addition to the new campaign, today's update includes several matchmaking changes. Matches will only start with even teams and players who disconnect before the end will get a loss on their record. Bugs causing players to get stuck in matchmaking or dropped because they disconnected a controller should be fixed as well.
Laggy, inconsistent online play has been a problem for The Master Chief Collection players. Some of these players have been demanding dedicated servers to clear up the issues. However, 343 Industries said today that they're already in use.
"Dedicated servers have been up and running since launch, and we continue to optimize and improve connectivity. The vast majority of games are being played on dedicated servers, but in the event that players cannot connect to a dedicated server, the lobby will stay together and the match will still occur on a peer-to-peer connection. Please be aware that you may connect to the dedicated server quickly enough that you won't see the 'connecting to dedicated server' dialog. The absence of that dialog doesn't mean that you're not playing on a dedicated server."
The update should download automatically once you log into the game. Here are the full patch notes posted at Halo Waypoint today:
343 Industries plans to expand Halo: The Master Chief Collection again this spring. They'll release a remake of Halo 3: ODST at no charge for early adopters.
Your Daily Blend of Entertainment News
Staff Writer at CinemaBlend.