Hatsune Miku: Project MIRAI Remix Brings The Beat To 3DS Next Year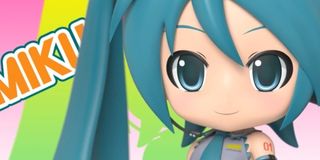 Everybody's favorite virtual idol is continuing her Western takeover as Hatsune Miku: Project MIRAI Remix (tentative title) gets announced for release on the Nintendo 3DS in the United States. This marks the first time one of Miku-chan's games have been released on a Nintendo console outside of Japan, capitalizing on the blue-haired Vocaloid's recent popularity surge thanks to similar releases on the PlayStation 3 and Vita.
Sega made the announcement official today, saying that Project MIRAI can be expected in the West sometime in 2015. Miku and her fellow virtual idols have been making big business in Japan for a number of years, with an underground following building ever-so-slowly here Stateside. A little while back, fans pestered Sega enough to earn a U.S. launch of Project Diva f, a rhythm game for the PlayStation 3.
That game did well enough to earn a Vita port of Project Diva f, too, going on to convince Sega to go ahead and announce that the Diva f sequel will also be arriving in the States. All of you who wonder if "voting with your dollars" really works, here's a prime example of exactly that. Fans demanded it, they rose to the occasion with their purchases, and now Sega is ga-ga to get more Miku here in the good ole' U.S. of A.
As for Project Mirai, it's also a rhythm game, but the player input mechanics and prompts are a bit different, working off of a revolving timer hand instead of free-flying symbols zipping onto the screen. The game's stars will be chibi, too, which seems oddly appropriate for Nintendo's more family-oriented 3DS console.
For those of you who enjoy your game's in three glorious dimensions, Mitsu and her besties are ready to oblige, offering up stereoscopic 3D awesomeness across two different game modes and three difficulty settings for each song. Players can dive in using physical buttons or tap and swipe commands.
"Players will enjoy a highly customizable experience with user customization options for button icons and sounds, character costumes and gear for the character rooms," reads a statement from Sega. "Players can create and share personalized player cards that show off who you are, as well as create customized dance routines to the songs, you own musical phrase and personalized comments about their favorite in-game videos, all via StreetPass."
Those options sound a lot like what is offered through the PlayStation Miku games, which also put a big emphasis on player customization and interaction with the characters.
Look for Hatsune Miku: Project Mirai Remix to arrive on local 3DS consoles sometime next year.
Staff Writer for CinemaBlend.
Your Daily Blend of Entertainment News
Thank you for signing up to CinemaBlend. You will receive a verification email shortly.
There was a problem. Please refresh the page and try again.