Hearthstone iPad Launches Worldwide, Go Get Your Free Card Pack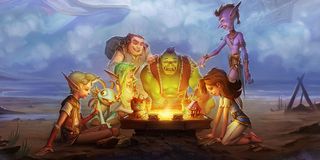 Hearthstone: Heroes of Warcraft's iPad version is no longer confined to just three countries. Blizzard has launched the collectible card game throughout the world for iPad 2 and later devices.
The tablet version of Hearthstone debuted in Australia, Canada and New Zealand earlier this month. It was possible to play the game on iPad even if you lived in an unsupported country. Now you don't have to pretend to be Dexter Fakerburg of Toronto anymore, though. You can log in with your regular old Apple ID and download the game to your iPad.
Fortunately, all of your Hearthstone data is tied to your Battle.net account rather than your Apple account. If you were playing with a fake Apple ID, switching to your real one won't wipe out your previous progress on iPad. Your levels, cards and rank will all carry over.
The iPad version of Hearthstone is also cross-compatible with the PC and Mac versions. Your progress and Friends list is the same on both the desktop and tablet so you can switch between them whenever you want. Players on all platforms can challenge each other in head-to-head multiplayer.
Even if you don't like playing on iPad, it's worthwhile to play at least one match. You'll get a free booster pack out of it.
"As an added bonus for giving Hearthstone a go on the iPad, you'll be able to earn a free pack of cards!" Blizzard says in a new blog post. "If you're a new player, just complete the fun introductory missions, defeating Illidan Stormrage at the end, and then enjoy a game of Hearthstone in any mode! Win or lose, you'll earn your free card pack just by enjoying a game of Hearthstone in Play, Arena or Practice mode."
Furthermore, if you're a World of Warcraft player, you can acquire a bonus mount for the game without much effort. The Hearthsteed, a flying horse, will be unlocked for your WoW account once you win three matches. These wins can be racked up in either Play or Arena mode. The Hearthsteed will be unlocked for all of your present and future characters upon completing this Achievement.
Hearthstone is currently in the middle of its first official season of ranked play. Players can earn special card backs for their collection by hitting rank 20 or rank 0 by the end of the season.
Last weekend Blizzard announced that they're adding a single-player adventure mode to the game. The first content for this mode, "Curse of Naxxramas," will introduce 30 new cards for players to earn. "Curse" will be available sometime this summer.
Your Daily Blend of Entertainment News
Staff Writer at CinemaBlend.