Hello Kitty X Street Fighter Coming In 2012; Capcom Is Not Joking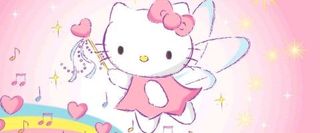 The headline says it all folks. This is not a joke either, even though it may come across as if Capcom just wet-willied your mind. Pretty soon a game is bound to follow but for now Capcom and Hello Kitty creator Sanrio have teamed up together for cross-branded merchandising between Street Fighter and Hello Kitty, with the first line of collectibles becoming available for purchase beginning in the fall of 2012.
Joshua Izzo, Director of Licensing, Capcom Entertainment commented in the press release, saying…
Really? Man, I just never thought the day would come where I would be reporting on a Hello Kitty X Street Fighter crossover. I suppose a game would feature the Street Fighter cast as Hello Kitties, dressed in their classic garb? I don't know, the idea is borderline nightmarish...in a cutesy sort of way.
Jill Koch, Vice President of Brand Management and Marketing at Sanrio commented in the press release as well, just to make sure that people know that this isn't a joke, saying…
I really thought we would have seen Street Fighter X Mortal Kombat before a Hello Kitty X Street Fighter but this sort of thing must be really sought after in Japan. It also makes you wonder what sort of finisher the Hello Kitty would have in a Hello Kitty X Mortal Kombat? The possibilities are endless.
Details on the merchandise, pricing and exact release date will be revealed at a later time. For now, you can rest easy knowing that come fall 2012, you, some fluffy pillows with ruffles, pink rainbows and Hello Kitty X Street Fighter will have a date with destiny.
Staff Writer at CinemaBlend.
Your Daily Blend of Entertainment News
Thank you for signing up to CinemaBlend. You will receive a verification email shortly.
There was a problem. Please refresh the page and try again.