Here's What Your For Honor Characters Will Say About You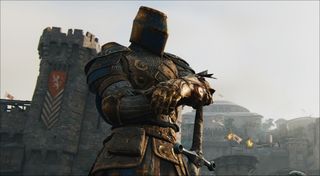 Ubisoft released a new developer diary to explain the three different factions of For Honor as well as what the motivations were behind the game and what gamers can expect from the upcoming, hack-and-slash combat title.
VG247 picked up the latest developer diary from Ubisoft, featuring five minutes of concepts, ideals and the focus behind the much talked about For Honor. Check it out below.
There are some interesting quotes in there from creative director Jason VandenBerghe. He explains what the character archetypes say about you, the player, and how it affects what you think about the way that you play. According to VandenBerghe, he mentions in the developer diary...
To be honest, when that question is asked I'm thinking about fighting style and skillsets. Sorry to burst the bubble of VandenBerghe but the first thing that came to mind when I say the one-on-one fights in For Honor was "This is the follow-up to Bushido Blade we've been waiting 15 years for".
Skill-based melee games aren't very frequent and I don't know why they've been so absent from today's gaming scene. Titles like Mount & Blade and Blade Symphony keep gamers entertained and enthralled for hours on end due to simple to learn yet hard to master melee combat systems. Yet for some reason we just don't see more of these kind of skill-based games coming out for home consoles. In fact, I can't think of any game similar to Mount & Blade for home consoles. The closest we get are titles like Lords of the Fallen, Dark Souls and Dynasty Warriors. Thankfully Ubisoft is taking the plunge into new IP territory with For Honor and bringing back skill-based melee combat to the fold.
This is also one of the few AAA games I'm genuinely excited for, the other being Mad Max. Even if the graphics get downgraded with For Honor so long as the animations stay fluent and the game maintains that gritty, technical melee foundation that they talk about in the video above and what they showcased at E3, I'll be happy. The game looks really fun and that's become a rarity these days with many AAA titles that feel like factory repeats and derivative clones.
I'd love to see more of For Honor and I can't wait until we get more information about the game. It's slated for release in 2016 along with a bunch of other high-profile games. The title is set to release on PC, Xbox One and PS4.
Your Daily Blend of Entertainment News
Staff Writer at CinemaBlend.