The Dark Souls III Gameplay Reveal Is As Dark And Ominous As We Expected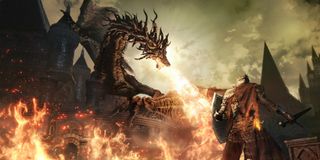 We've been waiting for it, and today Microsoft finally delivered during its Gamescom 2015 press conference: Dark Souls III gameplay. And from the look of things, it's just as gorgeous and dark as we expected.
From the very beginning of the trailer, it's made abundantly clear how gothic and austere the environments, the enemies, and the entirety of the game itself will be. It looks to be, thankfully, for the fans. Aesthetically, it looks very similar to the previous games in the series, especially its dark color palette and abundance of monsters creeping around waiting for you to annihilate them.
The lead character looks as though their improved mobility has changed the game for the better, as Dark Souls III introduces a demon hunter who's much more physically capable than the ones who came before him.
Game drector Hidetaka Miyazaki had commented previously on his plans to tune up the game's combat in several ways, so this was likely a move to get the Dark Souls franchise more in line with other action-oriented series out there, especially since movement has always been a fairly restrictive mechanic in this one.
Of course, it still looks as though we can expect tough-as-nails gameplay from Dark Souls III, and that will likely be seen when Gamescom kicks off proper for attendees to get their hands on a playable demo of Dark Souls III, which will hopefully confirm our suspicions of how dark and ominous this game will actually be. Hopefully the gorgeous visuals from the trailer will carry over to the actual game proper. Though unfortunately we don't have too many details about the upcoming title just yet. We'll likely see more as the year wears on, and we'll bring those details to you once they emerge.
We already know this won't be the last game in the series, however, as we reported earlier this year. Bloodborne might have whet our whistles for the upcoming release, but in the end it didn't sate the hunger. There's a special bloodlust players have for Dark Souls games, and this trailer is igniting the fire within. We need to feed, and soon!
Your Daily Blend of Entertainment News