Mount And Blade II: Bannerlord Screenshots Look Superb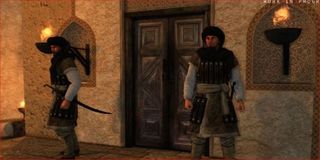 Taleworlds released some brand new screenshots of Mount & Blade II: Bannerlord. If you didn't know that an official sequel was in the works to one of the most underrated games out there, well now you do and there are screenshots to prove it.
The collection of screens depict a much more visually appeasing take on the classic Mount & Blade aesthetic, still keeping the bright sandy hues in tow but adding in dynamic shaders, more reflective surfaces, better texture work and most importantly, the character designs are a way more appealing.
The small team at Taleworlds actually managed to break the mold of the typical RPG free-roaming world-conquering gimmick by making the original Mount & Blade a very personal journey for players. It wasn't just about amassing forces and taking over the world (though that feat was rarely ever something a player could accomplish even over the course of 40 hours of gameplay) but it was more about befriending rogues, vagabonds, stray warriors, ronin, former conquerors, kings-to-be and mercenaries alike as they each had their own ideals and goals, fighting with you or struggling against you as you built up your character by completing quests and helping or attacking neighboring regions.
One of the things that also makes Mount & Blade stand out from many other games is that you literally start with nothing and have to try to find ways to gain something. It's extremely open-ended and it's possible to spend the majority of your time as a poor beggar or a thief that does nothing but go around and steal from people. There's no push to play the game one way or another and this has made Mount & Blade really stand out from other RPGs out there.
While details on Mount & Blade II are thin (to say the least) what we do know is that many of the features from the original are returning, including real time day and night shifts, horses (of course), and a wide smorgasbord of armor, weapons and outfittings to deck out your character looking like just another scrub or to come across as a super-badass mofo.
The shots also indicate that interiors are still around, so you'll be able to go into and out of certain buildings, that's a good sign.
The only thing I was really hoping for from the sequel was that the game would stream between areas instead of being instanced, but based on the screenshots it looks as if the areas are still instanced. It's not that big of a deal, but it would have been pretty awesome running from an army all the way to a town and then fighting off some of the guys while you use the buildings and close quarters as a way to weed out the enemy before making a daring escape.
Still, the game is looking quite marvelous to be on such a low budget and the best part about it is that all Paradox Interactive games will make use of the SteamOS, so technically the game will already be primed and ready to work on the Steam Machines once it releases.
You can check out more information on Mount & Blade II: Bannerlord by paying a kind visit to the official Taleworlds website. We'll keep you posted on any additional information on the game as it becomes available.
Image 1 of 8
Your Daily Blend of Entertainment News
Staff Writer at CinemaBlend.