Hotline Miami Sequel Set In 1990s, Will Finish The Storyline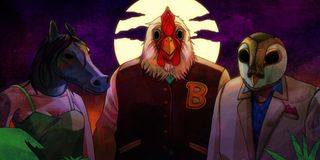 The retro murder-simulator Hotline Miami has garnered a lot of praise and kicked up tons of discussion across gaming forums across the web. The game made by two developers from Dennaton Games will be getting a sequel and the sequel will be set in the 1990s instead of the 1980s and it will be the final game in the Hotline Miami series.
Joystiq managed to get in some words with developers Jonatan Söderström and Dennis Wedin at this year's Game Developers Conference. They talked about how they wanted to move on and work on new IP, but they couldn't stop talking about Hotline Miami, a game that had a plot twist so vile and vicious that M. Night Shyamalan would have slapped his own forehead and said "Wow, I never would have seen that coming, even after I made Mark Walhberg talk to flowers in The Happening!"
The sequel will be set in the early 90s and will follow a lot of the trends set by the original Hotline Miami, only this time the game will sport more parallel storylines and will even feature a cameo from the game's original anti-hero, "Jacket".
According to Joystiq's interview with the duo, they're working with Abstraction Studios to get the sequel released day and date on PC and PS Vita when the time comes. Devolver Games will also still handle the publishing of the game and they mention that the soundtrack will still be composed of artists who have a taste for the duo's over-the-top thematic style. They mention that some of the artists from the first game will return while they're also bringing on new talent as well.
I'm really curious how the sequel will turn out, I enjoyed the first game much to my disgust and Pete named it one of his top 5 games of 2012. The game also managed to rank pretty high on 4Chan's rancid but sincere list of the best and worst of 2012.
Your Daily Blend of Entertainment News
Staff Writer at CinemaBlend.